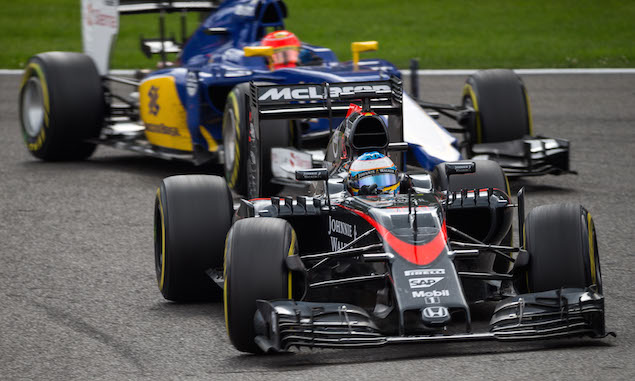 Kevin Magnussen says McLaren has been surprised by how long it is taking Honda to become competitive this season.
Honda returned to F1 as power unit supplier this year, but struggled for reliability throughout pre-season and had to run its engine in a conservative manner during the early rounds. While reliability has remained a concern, McLaren has only been competitive on circuits which place less emphasis on power unit performance.
Speaking to F1i during an exclusive interview, having already said his dream scenario involves racing for McLaren next year, reserve driver Magnussen admits he is unsure if the team will still be recovering in 2016.
"Let's see what happens," Magnussen said. "It's a big challenge at the moment and I'm sure McLaren is surprised that it has taken this long, but I believe in this team and I believe they will get back to winning championships again so hopefully I can be a part of that."
And Magnussen says he is better prepared for another season racing in F1, insisting he has matured during his season on the sidelines so far.
"I've been a lot more social this year with the team rather than just pure work and that's taught me a lot. Generally I've just grown up a lot, and I'm sure there are many things that has made this year quite special and I've just grown up, that's how I feel.
"I can't really name any examples but just a number of occurrences and situations; things that for sure I will remember for the rest of my life and I will have learned from that can help me."
Kevin Magnussen exclusive interview: New doors opening in F1
Click here for a look back at the 1971 Italian Grand Prix from Monza, when the top five cars were covered by just 0.61s.
Keep up to date with all the F1 news via Facebook and Twitter