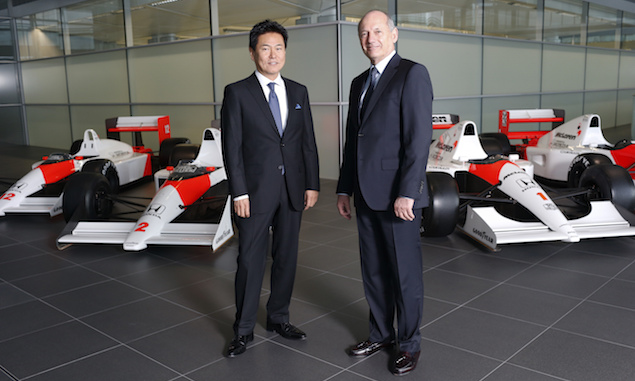 McLaren group CEO Ron Dennis says the team "will have success" with Honda as he aims to "reproduce" the dominance of the late 1980s.
McLaren won four consecutive drivers' and constructors' championships with Honda from 1988-1991, with the MP4/4 at the start of that run one of the most dominant F1 cars of all time, winning all but one race that year. Speaking during a Honda press conference in Tokyo on Tuesday, Dennis said there previous achievements show him just how successful McLaren-Honda can be.
"We are ready for the challenge and we will have success," Dennis said. "Because history shows that Honda always succeeds and the Honda-McLaren partnership of the 80s is something that we intend to reproduce."
However, Dennis also conceded he is realistic enough not to expect success to happen quickly at the beginning of the partnership.
"I hope to be stood in the not too distant future at some point celebrating the world championships that I'm very confident we will win together given some time. The first challenge is to win the first grand prix and in the short-term compete in Australia, finish with the most competitive result that we can possibly have."
Racing director Eric Boullier has previously claimed the design of the team's 2015 car - McLaren MP4-30 - is "amazing".
Click here to see the full gallery of the McLaren MP4-30
Keep up to date with all the F1 news via Facebook and Twitter