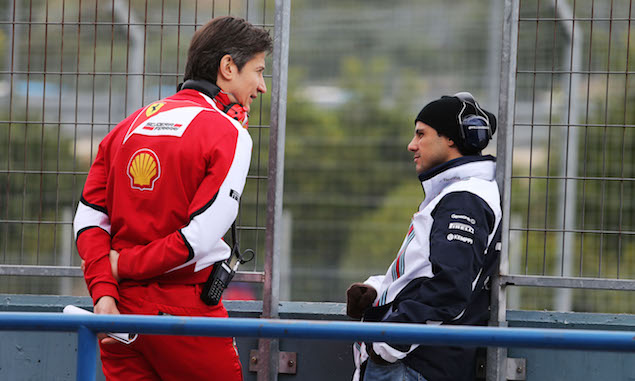 Ferrari could still have plenty of performance in hand, with Williams believing the power unit manufacturers will have been running "some way off optimum" at the first test.
Felipe Massa and Valtteri Bottas were keen to point out that Williams was not running the Mercedes power unit anywhere near its full potential during testing at Jerez, with Ferrari-powered dominance of the headline times being attributed to Mercedes hiding its performance.
Lewis Hamilton backed up that theory by claiming Ferrari was doing more attacking runs than its rivals, but Williams chief test and support engineer Rod Nelson expects all of the engine manufacturers to have kept plenty in reserve.
Asked how far off maximum performance Mercedes was running, Nelson replied: "I can't give you an absolute number, I don't know the absolute number is the honest truth.
"I'm sure it's true to say that all four of the manufacturers are some way off optimum [at Jerez]. We're not running quali-style maps and modes and all the rest of it, and I wouldn't believe that anyone is.
"Renault has got essentially a very highly-developed version of last year's engine. Mercedes has obviously been doing work, Honda's brand new and Ferrari I'm sure has done quite a bit of work. So we'll all be some distance off where we hope to be in Melbourne."
Click here for the full gallery of the first photos of the SF15-T
Keep up to date with all the F1 news via Facebook and Twitter