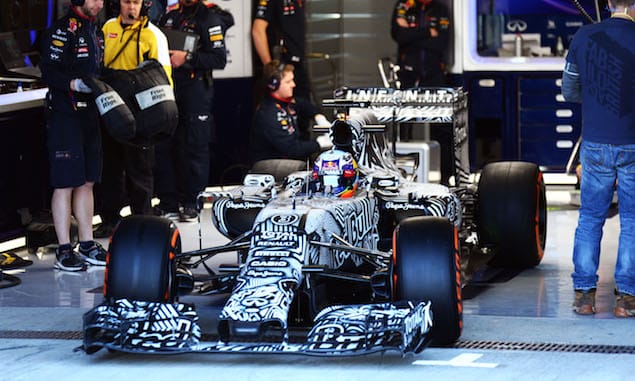 Daniel Ricciardo says Red Bull is still finding its feet and expects to see an improved performance during the second pre-season test at Barcelona.
The first test at Jerez saw Red Bull complete just 166 laps, which was the second-lowest number of laps and less than 33% of the amount completed by Mercedes. However, with Red Bull managing 21 laps at Jerez last year, Ricciardo says the team is looking at the positive aspects of its start to 2015.
"There were two ways to look at it," Ricciardo said. "You could have a bit of frustration looking at the amount of laps Mercedes did - I think they did nearly four times the amount we did - or you can look at the optimistic picture and look where we were last this time last year. So I think most of us looked at the optimistic one. It was a lot better than last year but for sure we're still trying to find our feet for now."
Following an impressive recovery between the end of pre-season testing and the first race of the season last year, Ricciardo says he's confident Red Bull will improve rapidly.
"We know that we've got time on our side and we're pretty quick at turning it around. It wasn't a disaster by any means and I think we'll just look to keep chipping away now during the next eight days in Barcelona."
Feature: A closer look at the Red Bull RB11
Click here for the full gallery of the Red Bull RB11 at Jerez
Keep up to date with all the F1 news via Facebook and Twitter