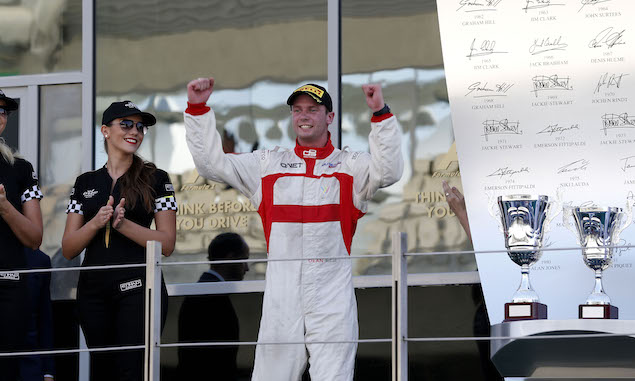 Dean Stoneman has been signed up to the Red Bull Junior Team and will race in Formula Renault 3.5 this year.
The British driver battled testicular cancer in 2011 but returned to racing in 2013 and last year delivered an impressive performance in GP3 to take five wins and finish as runner-up to new Williams reserve driver Alex Lynn. With Lynn leaving the Red Bull programme, Stoneman joins and will race for DAMS in Formula Renault 3.5, saying his target is to challenge for the title immediately.
"To be part of the Red Bull Junior Team has been one of my life goals and it is fantastic to be given the chance," Stoneman said. "You just have to look at the names that have gone before to see that only the best drivers get into the programme.
"I'm thrilled about the year ahead; to be in the DAMS team in World Series is a perfect opportunity. I obviously have all the support I need and we have a great build-up planned before the start of the season, plenty of time in the simulator before track testing starts in about 8 weeks.
"I'm aiming very high, Carlos [Sainz Jr] came from GP3 to World Series and won with DAMS last year. I think I showed last year in GP3 what I can do so I have no reason not to jump into Renault 3.5 and do well, get on the podium early and start racking up the points."
Also signed up to the Red Bull Junior Team is 16-year-old Callum Ilott, who won the European KF karting championship last year. Ilott is currently racing in the Toyota Racing Series in New Zealand but will step up to European F3 with Carlin this season.
"Being in the Red Bull Junior Team is a privilege, you just have to look at the history of the drivers that have gone before," Ilott said. "Last season was very good for me so I was hoping for a good start in cars but I didn't imagine that I would get this opportunity.
"The step up is quite something, I have a lot to learn but I have already had a very good start with a few F3 tests with Carlin and a couple of tests in a Renault 2.0 before coming out to New Zealand for the Toyota Series. There are a lot of experienced people around me to learn from and it gets better every time I go out.
"This is my first open wheel race series and I am trying to learn as quickly as possible. I think it will be a good preparation for the F3. This car has less downforce and a bit less power but it is close enough to help."
Pierre Gasly remains part of the Red Bull Junior Team, and will again race in GP2, switching to DAMS alongside Lynn.
Keep up to date with all the F1 news via Facebook and Twitter