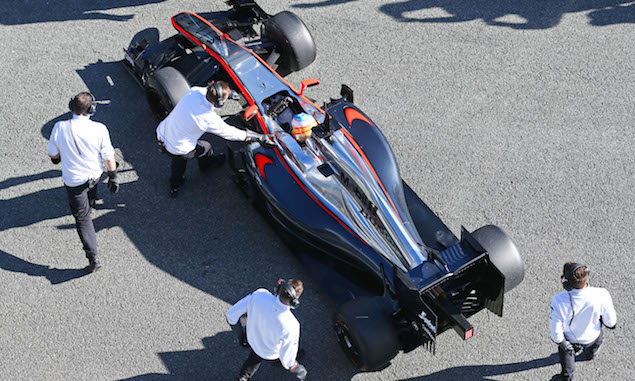 McLaren will only make "relatively easy changes" to the MP4-30 over the next two tests after being happy with the early signs from the car at Jerez.
The new McLaren-Honda completed just 79 laps across the opening four days of pre-season testing due to power unit issues, but the team is confident of more significant running at Barcelona next week. While Honda will update the power unit throughout the next two tests, engineering director Matt Morris says the limited mileage still allowed McLaren to gather enough data to be encouraged that the tightly-packaged car works as expected.
"The main car architecture works," Morris said. "So we've obviously got this super-tight rear end which works, so structurally and systems-wise we don't plan on making any changes.
"The changes that we will make will be relatively easy changes; bodywork, wings, floor, those sorts of changes. So we've got those planned for the next couple of tests and then we'll go in to Melbourne."
And Morris says there is no rush to get the Honda power unit running at 100% during the tests, with the main focus remaining the first race of the season.
"They've basically got upgrades every day at every test really. Obviously we've got a target of Melbourne and we'll get there as soon as we can. There's no concerns that we won't get there, it's just a case of taking everything step-by-step really."
Feature: A closer look at the McLaren MP4-30
Click here for the full final day gallery from the Jerez test
Keep up to date with all the F1 news via Facebook and Twitter