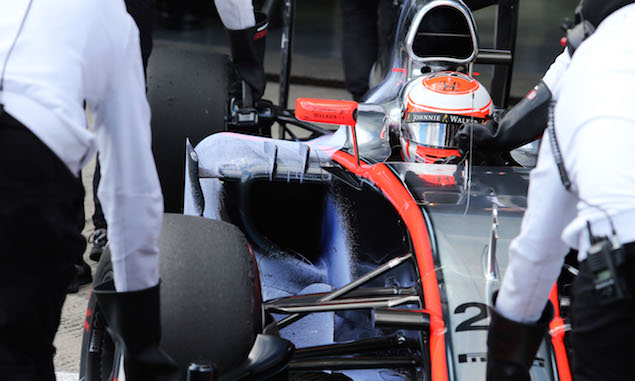 McLaren CEO Ron Dennis says the team has taken "calculated technical risks" with new technologies to try and improve quickly in 2015.
Mercedes had the dominant car and power unit package last season, winning all but three races as it secured a drivers' and constructors' championship double. With McLaren switching to Honda power this year, Dennis says it is natural for the team to be unable to complete similar mileage to its rivals during pre-season testing because it has introduced new concepts in order to try and match Mercedes' performance.
"Are we surprised that a Mercedes can do 100-plus laps [per day]? No, not at all, because that's where you'd expect them to be coming out of a season where they were dominant and effectively developing a different package," Dennis said. "Clearly if you are behind in any sport catching someone requires you to accelerate faster than they are running, otherwise you're not going to catch them up.
"Therefore, have we taken some calculated technical risks? Yes. These relate to technologies where we are the first to deploy them and need to work hard to get performance advantages.
"It probably won't even be until Australia until we know how well we are doing. I expect two or three races before we really get the lie of the land. The key word for everyone in the team [is] patience. We have to live with the frustrations we predicted for ourselves and some of these things aren't as optimised yet."
Feature: A closer look at the McLaren MP4-30
Click here for the full final day gallery from the Jerez test
Keep up to date with all the F1 news via Facebook and Twitter