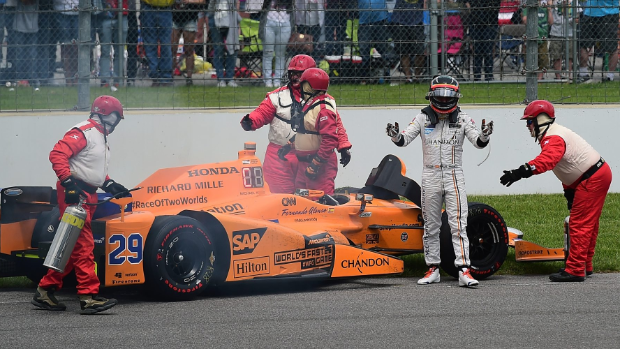 The statistics show that Fernando Alonso finished the 101st running of the  Indy 500 in 24th place, undoubtedly the most misleading number of the entire event.
Even if he failed to see the checkered flag, the Spanish driver was still a huge winner on Sunday.
He led the race several times, jockeying for position throughout like a seasoned veteran, and clocked the fastest average lap before his untimely demise with just 21laps to go when his Honda engine expired.
Watching Alonso mix it with the best on a fiercely competitive level was a 'feel good' moment for him as it was for all that watched, in the grandstands and abroad.
In the end, he was disappointed, but certainly not disheartened. Will the McLaren driver give it another shot in the future? We hope so...
"Definitely, yes," said Alonso.
"Obviously, if I come back here, at least I know how everything is. It will not be the first time I do restarts, pitstops, all these kinds of things.
"So it will be an easier, let's say, adaptation. Let's see what happens in the following years. I need to keep pursuing this challenge, because winning the Indy 500 is not completed."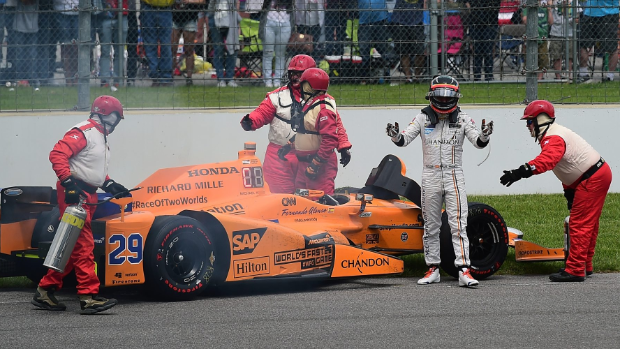 Assessing his time at the Brickyard and the new green pastures he discovered, Alonso considered it had been "a great experience".
"I'm obviously disappointed not to finish the race because every race you compete, you want to be at the checkered flag," he added.
"Today it was not possible.
"It was a great experience, the last two weeks. I came here to prove myself, to challenge myself.
"I know that I can be as quick as anyone in an F1 car, I didn't know if I can be as quick as anyone in an IndyCar. It was nice to have this competitive feeling, leading the Indy 500."
The 35-year-old had no doubts about where he would have been had he enjoyed in a trouble-free run in the closing stages of the race.
"With a trouble-free race, Ryan [Hunter-Reay], Alexander [Rossi] and myself would be half a lap in front of everyone," he said.
"That is the nature of this race.
"Even with some unlucky moments of yellow flags, we were in the mix. I think I had a little bit in the pocket before the engine blew up."
As a consolation, at the end of his media conference yesterday, flanked by McLaren boss Zak Brown, Alonso raised a half pint carton of milk and gracefully thanked the media before the room broke into laughter.
"Last thing," Alonso said.
"Thank you for all media. I didn't won, but I will drink a little bit of milk. You follow me for two weeks every single minute, but I really enjoy. Thanks for the welcoming."
Fernando Alonso is one class act. Check out the video below.
Although @alo_oficial finished the #Indy500 P24, he couldn't resist drinking milk as he finished his final news conference #winnersdrinkmilk pic.twitter.com/caMFVnIBSG

— IndyCar Series (@IndyCar) May 28, 2017
"Want to win a trackday experience? All you have to do is subscribe to our FREE newsletter HERE"

Gallery: All the pictures from Sunday in Monaco
Keep up to date with all the F1 news via Facebook and Twitter