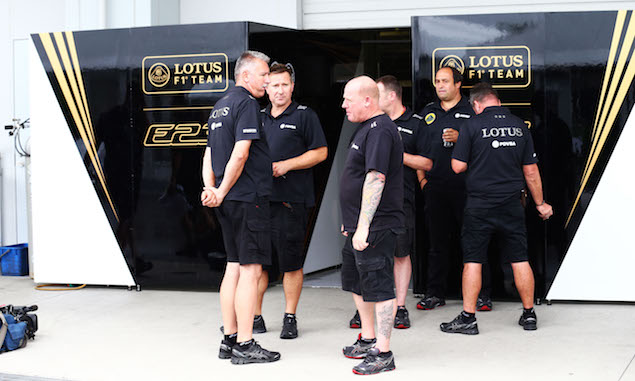 The Lotus F1 Team has been given extra time to sort out its business problems after winning an adjournment from a London court in a case over unpaid taxes brought by HMRC, Britain's tax authority.
Lotus has previously been told that it would have to secure a deal to put its affairs on a more stable footing today or face an order to have the company placed into administration.
Hours before lawyers returned to the High Court, Renault announced that they had signed a letter of intent "regarding the potential acquisition by Renault of a controlling stake in Lotus F1 Team Ltd."
However, the letter of intent did still technically fall short of the finalised deal that the court had earlier said would be needed to stave off administration.
Even so, the team was hoping that this - along with the announcement last week that Pastor Maldonado was being retained for 2016 which unlocks more sponsorship money from his backers to be paid to Lotus - would be enough to convince the court that there was now a strong prospect that the company will be restructured and able to pay its tax bills in the near future.
Lawyers for both Lotus and Renault appeared at the court on Monday to stipulate that a deal had been concluded overnight and to ask a further adjournment in the HMRC's legal action for 70 days until December 7 or the next available court date after that in order to allow both parties time to finalise the transaction and resolve the remaining contractual issues.
Judge Colin Birss agreed to the adjournment, which was not opposed by HMRC.
Lawyers for Renault subsequently told Reuters that HMRC had not yet been paid the outstanding PAYE and National Insurance contributions but would be imminently, with the team reported to owe up to £900,000 in back taxes and a total of £2.7 million to various parties.
Bernie Ecclestone recently stepped in to pay the Lotus wage bill over the summer to keep the team viable. Even so, Lotus struggled at Suzuka last weekend with the late arrival of vital freight, and was locked out of its own hospitality facilities in a separate row over unpaid paddock bills.
Chris Medland's Japanese Grand Prix review
Renault signs Lotus takeover letter
"I'm joking. You can laugh as well" - Rosberg and Vettel's awkward exchange
Click here for the F1 drivers' girlfriends gallery
Keep up to date with all the F1 news via Facebook and Twitter