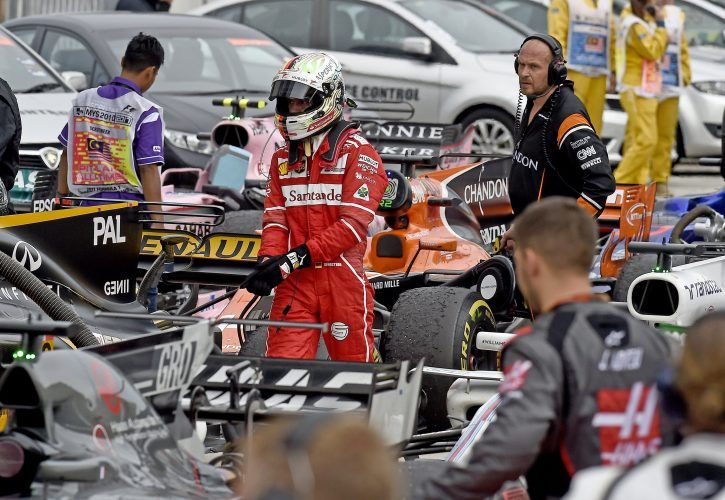 Ferrari team boss Maurizio Arrivabene believes the Scuderia's speed in Malaysia proves its title chances remain wide open with just five races to go.
The red squad looked all set to challenge arch-rival Mercedes and even surpass the Silver Arrows on sheer pace before a disastrous double dose of engine issues knocked down its chances.
Sebastian Vettel's botched qualifying session sent the German to the back of the grid on Sunday while Kimi Raikkonen was sidelined even before the race got underway with a power unit issue.
Beyond the team's painful misfortunes, Arrivabene insisted its performance level and Vettel's charge through the field in Sepang offered reasons for Ferrari to remain optimistic as it enters the crucial last stretch of its campaign.
"All weekend, it was clear we had a very competitive car," Arrivabene said.
"That could be seen from our pace in free practice, Kimi's front row in qualifying and Seb's amazing fight back in the race, when he went from last to fourth.
"However, it all added up to our hardest race of the year, as we had to confront problems that we will now analyse in depth.
"They prevented Sebastian from qualifying and Kimi from even taking the start. The team remained focused on its job throughout, putting in a great deal of effort working in the garage and then implementing an impeccable strategy.
"It's further cause to continue to believe in ourselves: we have the car, the men, the drivers, the means and the spirit to fight all the way to the finish."
Despite conceding six more points to Lewis Hamilton on Sunday, Vettel agreed with his team boss that his chances of overhauling his championship rival were intact although his task next weekend could be further complicated by a grid penalty associated with the replacement of his gearbox following his post-race run-in with Lance Stroll.
"I am still optimistic, because we know that we have a quick car," said Vettel.
"We tried to fight for the podium, pushed very hard, but in the end the tyres were starting to give up and we couldn't be really there.
"However, it is promising to see the car is good, even if both Kimi and I hit trouble. It's been a difficult weekend, but nevertheless the speed is there."
Gallery: The beautiful wives and girlfriends of F1 drivers
Keep up to date with all the F1 news via Facebook and Twitter