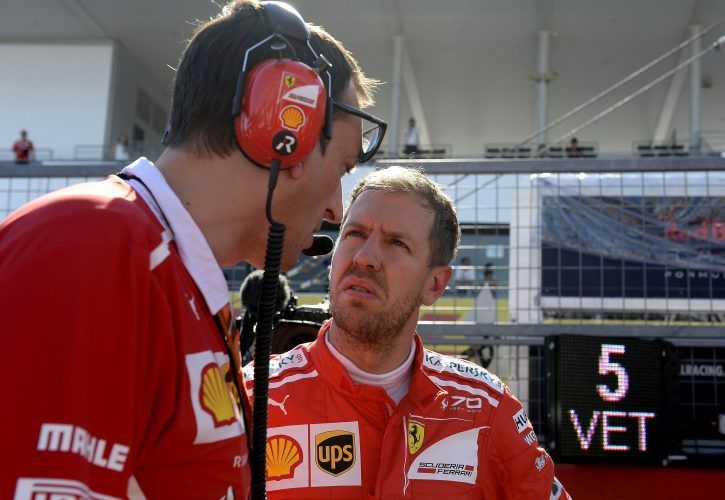 Ferrari's Maurizio Arrivabene insists no one at the Scuderia was at fault for Sebastian Vettel's early demise from the Japanese Grand Prix.
Panic erupted in the Italian camp yesterday when Vettel's car was diagnosed with an engine issue on the starting grid, minutes before the start of the race.
Ultimately, the German retired after a handful of laps, a misfortunate which dealt a massive blow to his championship chances following Lewis Hamilton's win at Suzuka.
Vettel's power unit trouble was traced to a faulty spark plug, the replacement of which was not possible with the short period of time available on the grid.
Ironically, NGK, the supplier of the spark plugs used by Ferrari is located just an hour from Suzuka.
The setback has some speculating that the Scuderia's disastrous performance in the last three races could lead to team boss Arrivabene losing his job.
But the Italian manager insisted that nobody was at fault at Ferrari.
"Everybody saw what happened," Arrivabene told Sky Italia.
"Do you see any mistake by the team?"
"The car is good beyond the components that cost us.
"But we have to turn the page, keep motivated, do the analysis of what happened, and go to Austin, even if the points (deficit) to Mercedes is a lot."
Mercedes boss Toto Wolff was obviously happy to see Hamilton increase his lead, but he also felt sympathetic towards his rivals, and walked over to the Ferrari pitwall after the race to offer a few words of compassion to Arrivabene.
"I get on very well with Maurizio and they must all feel awful," he said.
"Maybe it is the development slope of the team. They made a huge step forward from 2016 to 2017. Their car is super-fast, it just lacks reliability and that is the next step."
However, Wolff insisted it's not over until it's over, and his fellow Mercedes boss Niki Lauda agrees.
"I feel sorry for Sebastian," said Lauda. "Thank God it's them and not us, but Ferrari need to look where these small mistakes come from and correct them.
"Sebastian has a big deficit, but I always say that as long as the title is not won or lost, it is not won or lost."
Gallery: The beautiful wives and girlfriends of F1 drivers
Keep up to date with all the F1 news via Facebook and Twitter