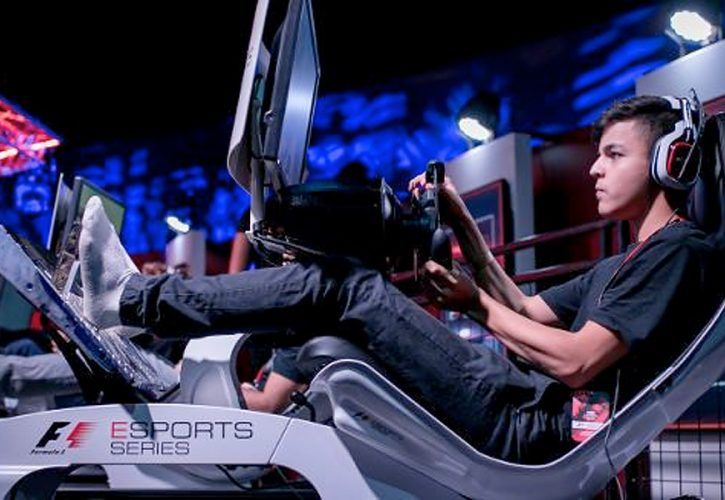 Former Formula 1 driver Karun Chandhok has suggested that the Formula 1 stars of the future could get their initial start in eSports.
Traditionally, young prospective drivers have kickstarted their motorsports career in karting. However that's becoming increasingly expensive, and many youngsters are now unable to afford it.
According to Chandhok, eSports represents a new, accessible way of getting into competitive racing.
"Today, if you look at it, the cost of going karting is very expensive, sometimes prohibitively," Chandhok said on Tuesday.
"For somebody who is between 12 and 16, the opportunity to hone your craft on games and simulators can be a good step into the world of motor racing."
Jann Mardenborough has already shown that the transition from virtual to real-life is possible. He became a professional racing driver in 2012 after winning the GT Academy run by Nissan and PlayStation. Since then he's taken part in the Le Mans 24 Hours, FIA European Formula 3 Championship, Super GT and GP3.
"We've seen people go to Le Mans. We've seen people race in GT racing who've come from games," said Chandhok, who drove for HRT and Lotus in 2010-11 and is currently technical analyst and pit lane reporter for Channel 4's Formula 1 coverage in the UK.
"I don't think you can take someone from a gamer straight to being a Grand Prix driver," he admitted. "But they could get a step onto the ladder."
Chandhok was speaking during online coverage of the semi-finals of the F1 eSports championship. It was held at the Gfinity Arena in London.
The tournament was set up by Formula 1 in partnership with game developer Codemasters and specialised company Gfinity. It attracted an initial 63,827 entrants.
This week, the remaining 40 competitors were further reduced to just 20. They now go through to next month's grand final. The event will be held in Abu Dhabi at the Yas Marina Circuit, in the run-up to the F1 season finale.
The players competed in eight heat races around virtual Silverstone and Interlagos circuits. They were playing Codemaster's official F1 2017 game on PlayStation 4, Xbox One and Windows PC platforms.
Britain's Brendon Leigh dominated qualifying earlier in the day. He went on to win both his races and was over a second a lap faster than his rivals in a virtual downpour at Silverstone.
Germany's Patrik Holzmann was also a double winner, including a hard-fought victory over Denmark's Frederik Rasmussen in what was arguably the battle of the day. Allert Vanderwal from the Netherlands and Finland's Sonuc Saltunc likewise won both their races to book their places in the Grand Final.
You can catch up with all the action from the semi-finals on the official F1 eSports twitch channel.
Gallery: The beautiful wives and girlfriends of F1 drivers
Keep up to date with all the F1 news via Facebook and Twitter