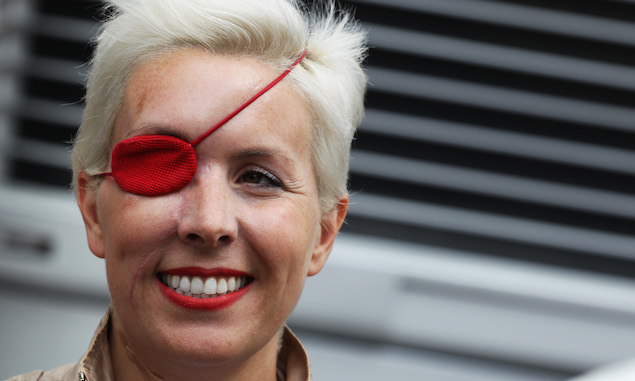 The family of Maria de Villota has reached an agreement with the public liability insurers of the defunct Manor F1 team over a 2012 accident which left her blinded in one eye.
De Villota had been a test and development driver for the backmarker team, then called Marussia. She was conducting straight-line tests at Duxford Aerodrome in July when her car ran into the lowered tailgate of a stationary truck.
A subsequent Health and Safety Executive investigation determined concluded that she had not received full guidance on how to stop the car prior to the accident. She has been caught out by the anti-stall system, which activated as she attempted to bring the car to a halt.
However the HSE decided not to take any formal legal proceedings against the team over the crash.
De Villota suffered facial injuries and lost the use of her right eye as a result of the impact. However she continued to be involved in motorsport during her prolonged recovery.
The Spanish-born driver later revealed that she had lost her senses of smell and taste, and still suffered from headaches as a result of the trauma.
De Villota passed away suddenly on October 11 2013 aged just 33. The cause of death was cardiac arrest, but it was suggested that the neurological injuries she suffered in the crash had contributed to her passing.
Yesterday, four years to the day after she died, her family confirmed that their legal action against Manor has come to an end.
"It was a tragic accident which shocked the team and all who knew her – she is sorely missed," said a spokesperson for Manor, which went into administration at the start of 2017.
A press release issued by UK-based law firm Slater and Gordon didn't disclose the details of the agreement.
"The family of Maria de Villota are pleased to say that they have reached agreement in their dispute with the Manor F1 Team following Maria's accident on the 3 July 2012," the statement read.
"The accident happened for a number of reasons, one of which was that a lorry was parked in the pit area with its tail lift projecting, for which Maria was not at fault.
"Once again, the family wishes to say thank you to all the fans, friends and others that have supported Maria before and during her career, particularly those who did so after the accident.
"Also to all those who today continue remembering her with her happiness and smile taking care of those most in need."
Paul Tapner, speaking for the family, added: "This is an important moment, as the family can now put all their efforts into continuing with Maria's Legacy".
Maria's Legacy is ""a movement created to give continuity to Maria's solidarity programs focusing primarily on children with neurodegenerative diseases and people with limited financial resources".
Gallery: The beautiful wives and girlfriends of F1 drivers
Keep up to date with all the F1 news via Facebook and Twitter