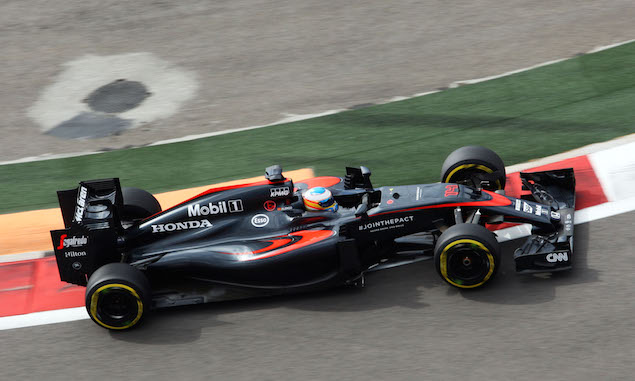 Fernando Alonso says his main goal is to finish the Russian Grand Prix to learn about "some experimental parts" on his McLaren.
With Honda preparing a new power unit for use later in the season, Alonso is facing a 35-place grid penalty and will start from the back of the grid. While Jenson Button qualified 13th and is looking forward to racing in the midfield, Alonso says his target is simply to finish the race to gain data for the new parts.
"We have some experimental parts in the car, in preparation for next year, so we need to finish the race to give them as much mileage as possible," Alonso said. "The cars are in different configurations, to get comparative data, so from that point of view it's also an interesting weekend even if we're not competitive. We won't have a spectacular race but we're trying some very interesting solutions."
And Alonso believes he didn't have the performance to be able to join Button in Q2, focusing on the positive of saving mileage on his power unit as a result.
"On my last run the tyres didn't give me enough grip, so maybe what we did in the first run, with more warm up laps, was better as I had more grip on the timed lap. The two laps I did were good but what we had today was not enough to get out of Q1.
"At least we didn't have to do some laps in Q2, so we could save the engine a bit, as whatever position I would get today I would start last because of the penalties I'll get. I didn't want to do many laps, we prepared well for tomorrow even though we know it will be a difficult race for us.
"We don't have enough top speed and that's very important on this circuit, but the car is well balanced. We knew it would be difficult, so we decided to take the penalty here but keep the new engine for the next races, so for here we put one of the worst engines we still have because, in any case, we don't have many chances to fight for the points. But we'll try to have some fun in the race, pass a few cars at the start and give a good battle to whatever cars we'll have around us."
Rosberg beats Hamilton to Sochi pole
AS IT HAPPENED: Russian Grand Prix qualifying
Gallery: Carlos Sainz's crash in FP3
Keep up to date with all the F1 news via Facebook and Twitter