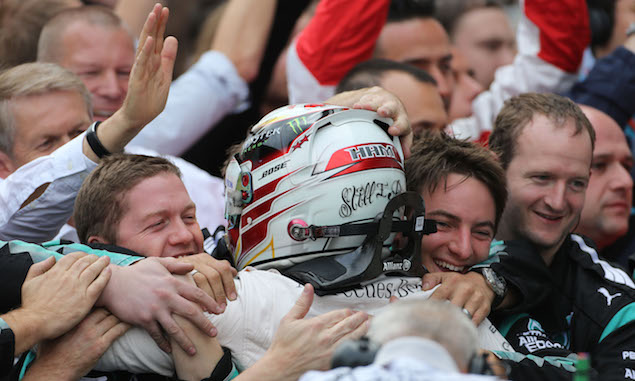 Lewis Hamilton described Mercedes' performance in 2015 as "phenomenal" after the team secured the constructors' championship.
Kimi Raikkonen's post-race penalty reduced Ferrari's points total for the weekend to 22, with Hamilton's victory therefore enough to hand Mercedes a second constructors' title in a row. Reacting to the news, Hamilton said he is "proud" to have played a part in the team's success.
"We found out upstairs and it just feels special to be a part of it and to have contributed to a team's success," Hamilton said. "It's a great, great, great feeling so I feel very proud when I'm up there and see the smiles on everyone's faces.
"Tomorrow I'm going to see the whole team. While I feel but a small link in the chain of many, many people, I'm proud of my spot. I'm proud of that link that has gained the points that we have."
And Hamilton insists he didn't expect Mercedes to be able to produce as dominant a season as it did in 2014.
"I really didn't know. When the rules stay very similar it should be the same, but particularly after McLaren and seeing how it went the next year it just showed me how anything can happen in this sport. I did feel like the guys were going to do a good job but I just didn't know it was going to be this good. They did an even better job this year than they did last year which is just phenomenal."
Asked if he saw the team winning back-to-back championships when he opted to move from McLaren, Hamilton replied: "I didn't.
"I remember sitting with Ross [Brawn] and I got such a good feeling when he told me the plans that they had. I'm just thinking right now that I need to make sure that I message him because still today whilst we are succeeding Ross is still a part of it."
Hamilton close to title after Russian GP win
AS IT HAPPENED: Russian Grand Prix
Click here for the F1 drivers' girlfriends gallery
Keep up to date with all the F1 news via Facebook and Twitter