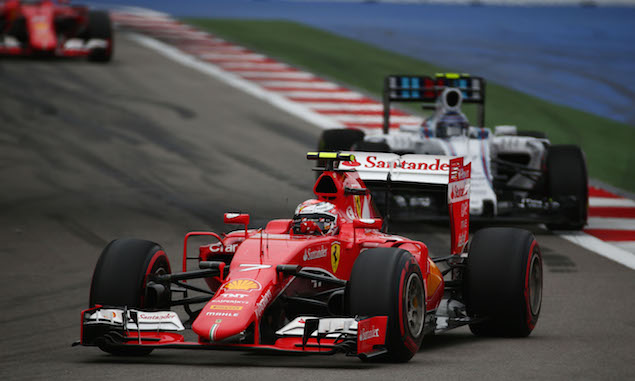 Kimi Raikkonen says his attempt to overtake Valtteri Bottas was not "completely stupid" despite taking out the Williams driver on the final lap in Russia.
With Bottas running in third place, Raikkonen attacked from a long way back in to Turn 4 on the final lap, hitting the rear of Bottas' car and sending the Williams in to the barrier. Bottas criticised his fellow Finn for the collision after the race, saying: "I don't really get the point to do moves like that on the last lap".
Raikkonen, however, believes Bottas simply didn't see he was attempting to pass and insists it was not a reckless move.
"I went to the inside but I don't think he realised I was there," Raikkonen said. "Obviously, at the last point, I knew he was turning in so I tried to avoid him on the inside and had to brake hard, but I was passed him already and there was contact.
"I don't think it was something completely stupid that I tried. We made a call and it was only two cars, but there are many ways of looking at the incident. I was there, but did he know that I was there? The fortunate thing is that it wasn't a bad accident but it is part of racing and it happened."
Raikkonen was hit with a 30-second time penalty after the race, which dropped him from fifth place at the chequered flag to eighth and handed Mercedes the constructors' championship.
Raikkonen penalty hands Mercedes constructors' title
Hamilton close to title after Russian GP win
AS IT HAPPENED: Russian Grand Prix
Click here for the F1 drivers' girlfriends gallery
Keep up to date with all the F1 news via Facebook and Twitter