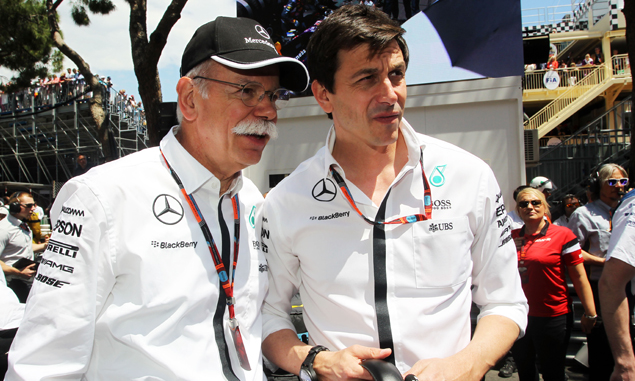 Daimler boss Dieter Zetsche has congratulated the Mercedes F1 team for winning a second consecutive Constructor's title at Sochi, but admits it had to "raise the bar again" in the face of increased competition.
With Ferrari initially outscoring Mercedes by three points in the Russian Grand Prix, it looked like the German behemoth would have to wait until Austin to seal the crown.
That was before fifth-placed Kimi Raikkonen was handed a 30-second time penalty post-race for punting Valtteri Bottas out on the final lap. This demoted the 2007 world champion to P8, which makes Mercedes' lead in the standings unassailable across the remainder of the 2015 season.
"What an incredible moment for Mercedes-Benz!" rejoiced Zetsche. "Congratulations to our team in Brackley and Brixworth who have worked so hard to make this achievement possible, winning a second world championship in a row.
"After winning in 2014, we raised the bar again to secure this year's title, and we needed to because our rivals gave us plenty of headaches as they stepped up their performance."
Although Mercedes did face a greater challenge on several occasions this year, especially at Singapore last month, the newly crowned champions remain the clear benchmark in the current 1.6-litre V6 turbocharged era.
"The work by our team is the perfect example of what drives Mercedes-Benz forward: the best technology," added Zetsche. The most efficient hybrid petrol engine that our company has ever made, world-beating aerodynamics and intelligent design in every part of the W06 Hybrid racing car.
"Most importantly, though, we must not forget the human factor: we have two exceptional sportsmen at the wheel, Lewis and Nico, and a fantastic team behind the scenes, who have delivered 12 wins in 15 races so far this year. Their work has made every employee of Mercedes-Benz a world champion and we are very proud of them."
Hamilton close to title after Russian GP win
AS IT HAPPENED: Russian Grand Prix
Click here for the F1 drivers' girlfriends gallery
Keep up to date with all the F1 news via Facebook and Twitter