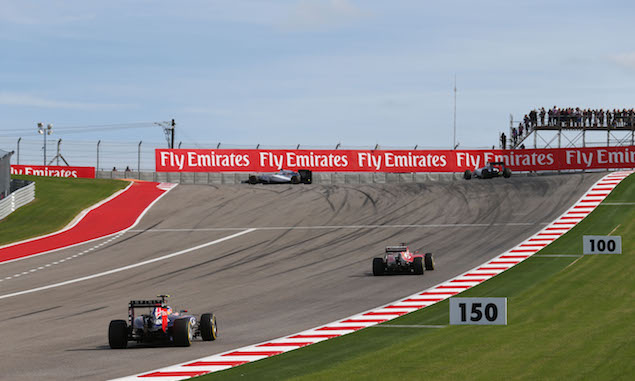 Daniel Ricciardo says the Circuit of the Americas is "the best overtaking circuit on the calendar" ahead of next weekend's United States Grand Prix.
The Austin circuit held its first grand prix in 2012, with Lewis Hamilton beating Sebastian Vettel to victory. Vettel was victorious a year later, before Hamilton had to pass team-mate Nico Rosberg on track to win last season. Ricciardo was third in 2014 having started from fifth, while Vettel in the second Red Bull came through from the pit lane to seventh place and Ricciardo says the track offers plenty of opportunities to overtake.
"For a modern-day circuit with lots of runoff, they've done the best job possible," Ricciardo said. "They've created a track that's safe but managed to ensure it's still fun. It's probably the best overtaking circuit on the calendar."
Red Bull team-mate Daniil Kvyat is also a fan of the circuit, which should suit the RB11 more than the last track in Sochi.
"I really like racing at COTA; the track is really good," Kvyat said. "It has a lot of high-speed corners, heavy braking, long straights, a bit of everything really, so it's great for racing, very enjoyable.
"Sector One is exciting. There are a lot of high-speed changes of direction. It's kind of like Maggots-Becketts at Silverstone and it feels great through there in an F1 car. The circuit also has a lot of changes of elevation, which is something I think every driver appreciates. It's a good track."
Click here for analysis of the technical updates on display at the Russian Grand Prix
Click here for a lighter look at some of the scenes from the Russian Grand Prix
Click here for the F1 drivers' girlfriends gallery
Keep up to date with all the F1 news via Facebook and Twitter