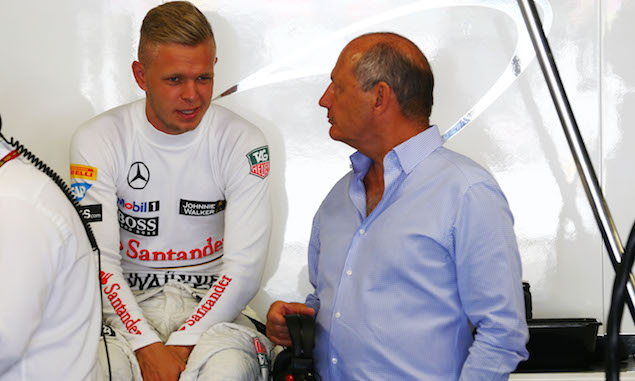 McLaren chairman Ron Dennis says Kevin Magnussen deserves an F1 career, with the Dane leaving the team in search of a race seat.
Magnussen took to Twitter on Friday to confirm his departure from McLaren, thanking the team which gave him his F1 debut in 2014. However, after being demoted to the role of test and reserve driver this season, Magnussen will leave the team at the end of the year in order to try and find a race seat elsewhere.
Dennis says there is "no shame" in Magnussen not being able to regain his McLaren seat from either Jenson Button or Fernando Alonso, and hopes to be able to help him find a drive elsewhere.
"Kevin has always done a very impressive and professional job for McLaren in the five years since he joined our Young Driver Programme in 2010," Dennis said.
"In 2014 he raced very well alongside Jenson, who is a hugely experienced and very quick World Champion. Kevin's Grand Prix debut in Melbourne last year was rewarded with a podium that day that he, and we, can be justifiably proud of.
"Kevin has continued to work hard for us in 2015, supporting Fernando and Jenson, although he was understandably frustrated not to be racing.
"He is extremely keen to return to racing next year, and, in keeping with our tradition with our young drivers, we will not stand in the way of his ability to fulfil his ambition and potential.
"He is a very talented racing driver, and he deserves to have a Formula 1 career, as Jenson has publicly said.
"Evidently, we have no space for him at McLaren-Honda as a race driver next year, but there is no shame in being edged out by two World Champions, Fernando and Jenson. We wish Kevin well, and will do all we can to help him successfully embark on the next chapter of his racing career."