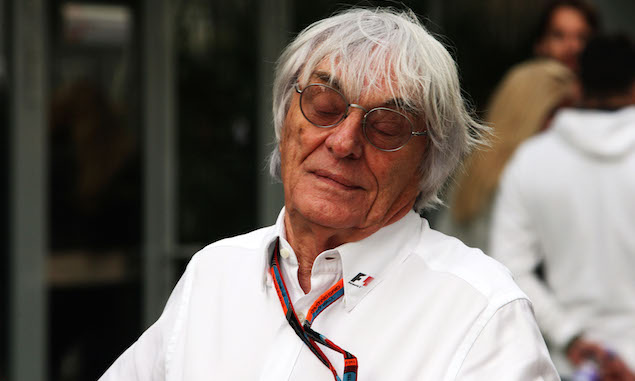 F1 boss Bernie Ecclestone has given a controversial interview backing FIFA president Sepp Blatter and criticising America.
Speaking on Russian television network RT, Ecclestone was asked about Formula One being "too democratic", to which he replied: "I don't think there's any place for democracy ... Anywhere."
Ecclestone was then asked whether Blatter should have stated his intention to step down, with the FIFA president facing a criminal investigation over a payment made to UEFA president Michel Platini, with both men currently suspended. FIFA has been rocked by allegations of corruption, but Ecclestone says he is a supporter of Blatter.
"I don't think he should have ever stepped down, and I don't think he should have ever been challenged, because it's because of him we have a lot of countries around the world that are now playing football," Ecclestone said. "And if these people allegedly have been corrupted to make things happen in their country, it's good. It's a tax football had to pay."
With more of a focus on F1, when asked about the reasons for moving races away from Europe, Ecclestone said the sport needs to branch out to ensure it remains a World Championship.
"I think Europe is a thing of a past anyway. I think it would be a nice for people from China and even here, to visit, and look how the old times were, you know. It's not going anywhere."
And Ecclestone wants to establish the sport more firmly in America, but says it is not a country he is a fan of.
"We ought to try and be for a little bit in America ... It's hard for me ... I'm not very enthusiastic about America, so… Really… the biggest problem with them is that they believe [they are the] greatest sort of power in the world.
"It's difficult, because, they are a big island, so they are a bit isolated; they are slowly starting to learn what other people in the world do."
Toto Wolff exclusive interview: Behind the Mercedes dominance
Click here for analysis of the technical updates on display at the Russian Grand Prix
Click here for the F1 drivers' girlfriends gallery
Keep up to date with all the F1 news via Facebook and Twitter