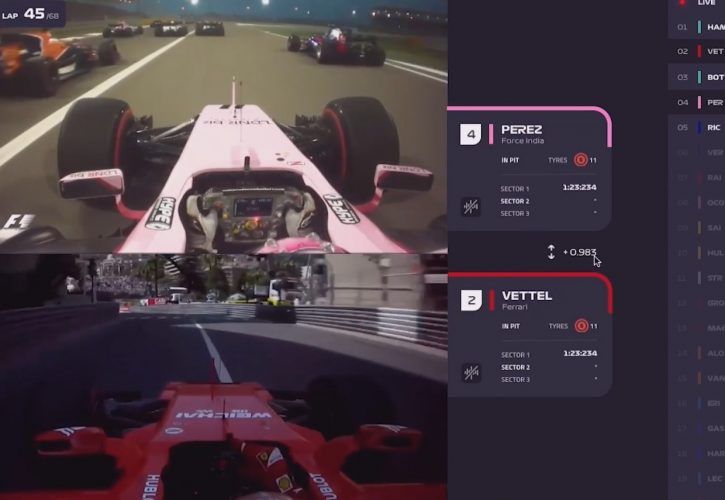 Formula 1 fans will have a new way to access the sport this year with the launch of live Grand Prix subscription service F1 TV.
The new over the top (OTT) platform plans to revolutionise the way the sport is broadcast around the globe.
"With the launch of F1 TV, we are beginning on the journey to build a cornerstone of our digital transformation," said Frank Arthofer, Director of Digital and New Business, Formula 1.
He added that the intention is to provide F1 fans "with the best sports OTT customer experience in the world."
Commercial-free live streams of each race will come with multi-language commentary options in English, French, German and Spanish. There will also be access to all 20 driver on-board cameras during each race session.
F1 TV Pro will also have additional unique feeds not available on any other platform. It will offer multi-level personalisation with subscribers be able to choose the content they want, and how and when to access it.
Practice sessions, qualifying and races will be offered live, as will press conferences and pre- and post-race interviews with drivers and team principals.
In addition, subscribers will be able to watch support races from Formula 2, GP3 Series and Porsche Supercup, among others.
"F1 TV subscription products are clearly and centrally aimed at our hardest core fans," said Arthofer. "We are firm believers that while we are bringing a new audience to the sport, we must always remain focused on delivering products and experiences that serve the most avid F1 fans."
The service will be available in nearly two dozen markets at launch. Confirmed countries able to access the service include Germany, France, USA, Mexico, Belgium, Austria, Hungary and much of Latin America.
F1's biggest investment in its digital transformation to date will offer a number of subscription-free features.
Complimenting F1 TV Pro, F1 TV Access will provide live race timing data, radio commentary and extended highlights of each race weekend session. There will also be unprecedented access to archive video content from the Formula 1 archives.
The subscription-free service will be available on a near-global basis at launch. Both F1 TV Pro and F1 TV Access services will be provided by Tata Communications, Formula 1's Official Connectivity Provider.
"F1 is the first global sport to adopt such an ambitious mobile strategy - and we're excited to be part of it," said Mehul Kapadia, Managing Director, Tata Communications' F1 Business.
"A single global OTT video platform, with multiple live feeds and hundreds of hours of past highlights, gives fans the power to create their own unique, immersive motorsports experiences.
"It's a way to keep existing audiences hooked and attract new fans to the world of F1 too."
Gallery: The beautiful wives and girlfriends of F1 drivers
Keep up to date with all the F1 news via Facebook and Twitter