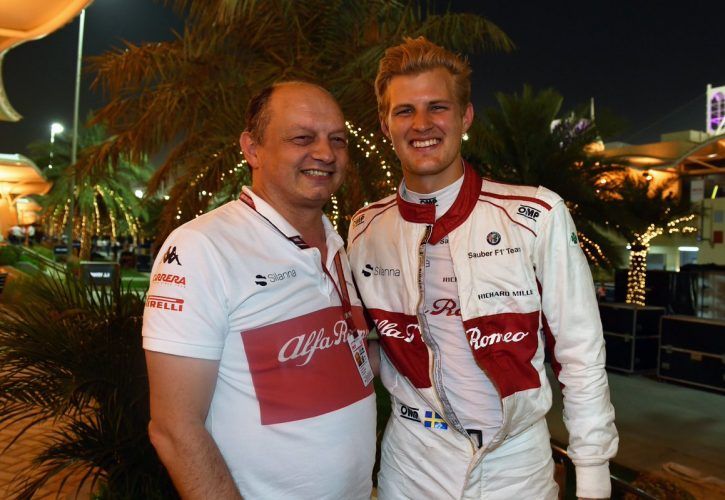 Marcus Ericsson underwent a stringent diet over the winter, the result of which has boosted his performance this season with Sauber.
The Swede is among the tallest and heaviest drivers in the F1 paddock, his morphology and weight only complicating his task as a Grand Prix driver.
Ericsson put an end to a 49-race pointless streak in Bahrain, delivering a superb drive which yielded ninth and two championship points for himself and Sauber.
The 27-year-old has put part of his performance boost this year on a significant weight loss over the winter, which has now made him more lean and mean than ever.
"I dropped 5 kilograms," he said.
"It meant no carbs, no desserts, no alcohol. It was difficult, but it was worth it and has made a big difference. Ten kilos less is 3-4 tenths per lap.
"All my F1 career I've had a weight disadvantage to my teammate. It's difficult to go up against, you try to say it to people but they don't really take it into account."
Ericsson reckons that having the highly rated Charles Leclerc as his team mate provides a good opportunity for him to prove his worth.
"Charles is the strongest teammate I've ever had. He's very, very fast, but I feel I've stepped it up a lot as well," he told Motorsport.com.
"I see this as my big opportunity to show what I can do and how much I've developed over the years as a driver."
Sauber's result means the Swiss team is now placed eighth in the championship, ahead of both Force India and dead-last Williams.
Team boss Frederic Vasseur said the Swiss outfit still needs to improve in qualifying, but praised his driver for his outstanding result in Bahrain.
"But you can't race better than Ericsson did," said the Frenchman. "Very strong, very consistent and reliable."
Gallery: The beautiful wives and girlfriends of F1 drivers
Keep up to date with all the F1 news via Facebook and Twitter