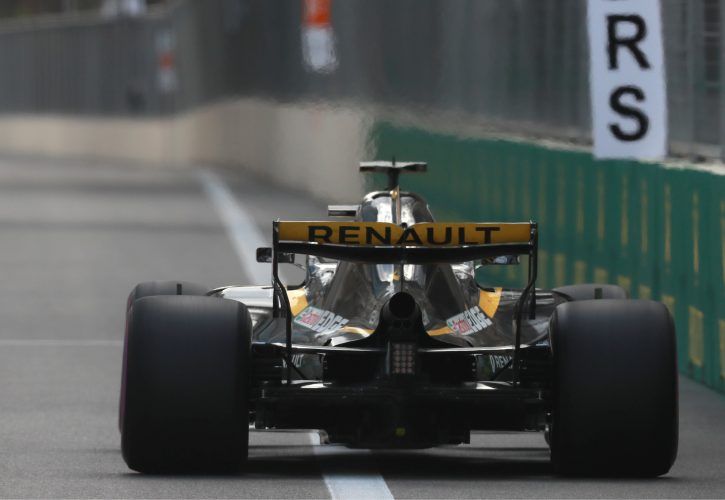 Renault Sport F1 boss Cyril Abiteboul has revealed that the manufacturer's power unit will use a new fuel concoction at next week's Spanish Grand prix in Barcelona.
Renault is currently fifth in the Constructors' standings and hopes to continue its progress on the back of Carlos Sainz fiftyh-place finish in Baku, the team's best result since its return to Grand Prix racing in 2016.
"Our progress is clearly illustrated in the data in a number of ways; for example our gap to pole has halved from last year," said Abiteboul in Renault's race preview.
"The start of the European season now needs to see a consolidation of that performance.
"We will be helped in Spain by a step on the engine side with new fuel and some aero tweaks to reflect the characteristics of the track.
"We hope this to be a move forward, but we also recognise that many other teams will bring upgrade packages too and Barcelona is well known to everyone.
"We need to push for points and that fourth position in the Constructors' Championship, which is well within our grasp now but I expect it to be a lot tighter from now on in."
While aero tweaks shall be introduced in Spain, they will logically be fairly minimal given the update package implemented in Baku says Renault's chief technical officer Bob Bell.
"Traditionally Barcelona has been where all the teams have brought upgrades; usually a major aerodynamic upgrade," said Bell.
"This year, the first big aero upgrade package was in Baku. In Barcelona, we'll have less brand new elements.
"For the foreseeable races, we have upgrades coming at each race, some small, some bigger.
"The performance of the car has been pretty much where we thought it would be from winter testing," he adds.
"We have a very stable platform, which is a great place to be in order to develop and make the car better and better as the season progresses.
"Confidence is up, and we believe we can fight where we want to be. It's never easy, it's hard fought and we have to push hard all year to get the developments coming and keep us ahead of the rest of the midfield pack. We're in a good place with a solid foundation."
Gallery: The beautiful wives and girlfriends of F1 drivers
Keep up to date with all the F1 news via Facebook and Twitter