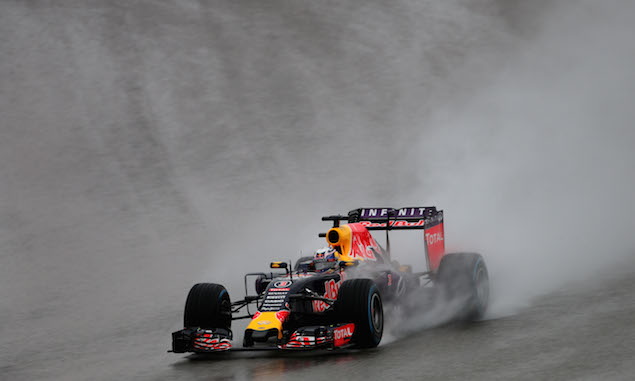 Daniel Ricciardo hopes the wet weather remains for the United States Grand Prix having qualified third in the rain.
Qualifying took place on Sunday morning with heavy rain seeing the times from Q2 used to form a grid after the final part of the session was cancelled. Ricciardo was quickest in Q1 but couldn't match the pace of the Mercedes in the heavier rain, but he hopes it does not dry out by this afternoon's race.
"Mixed conditions would be good," Ricciardo said. "I think a full dry race we are likely to be less competitive. Obviously I don't want it to be too much rain that we don't run and we're sort of behind the safety car for ten laps and then done.
"I think a genuine wet race would be cool and I think it would make it a little bit more exciting as well with a few more variables that get thrown in. So I wouldn't mind if it eased off a bit but we stay on wets, that's going to be fun."
And Ricciardo admits he had felt like he was in with a chance of pole position after topping the first part of qualifying.
"Q1 was looking good, we were quite comfortable and then Q2 I think there was a little more water on the track and it seemed like we struggled a little bit more I guess compared to these guys and they had a bit more speed. But still, third is not bad I think, it's a good place for the race.
"A few faster cars are further back than I think they maybe would be in dry conditions. So I think it's a good opportunity for us today. I don't know what the weather is going to do but I think we're going to have a lot of fun."
Rosberg takes pole as Q3 cancelled in Austin
AS IT HAPPENED: United States Grand Prix qualifying
Technical analysis: Exclusive pictures of the 2015 Honda power unit
Click here for the F1 drivers' girlfriends gallery
Keep up to date with all the F1 news via Facebook and Twitter