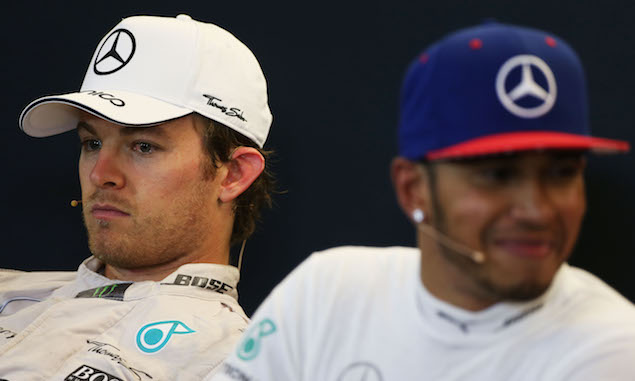 Toto Wolff admits he is wary the fallout from the United States Grand Prix could cause a split between Nico Rosberg and Lewis Hamilton.
Hamilton took his third drivers' championship with victory at Circuit of the Americas, with the two drivers fighting on track on numerous occasions. Hamilton even made contact with Rosberg when taking the lead in to Turn 1 at the start of the race.
With both championships now secure it was put to Wolff that he will be able to relax the approach with the drivers for the remaining races, but he says there is a risk of a rift appearing between the two.
"[They can race] flat out, but actually we have been unleashing them all the time already," Wolff said. "I was just asked how I am going to approach those races [with both titles secure] and I told them I don't know because I have never been in a comfortable situation of being able to sit and watch a race and enjoy it as a fan.
"But it is also a crucial moment now to make sure today's race and this incident don't release consequences within the team and splitting the two sides of the garage."
Asked if it has the potential to be as bad as the fallout from Spa in 2014, Wolff replied: "Yes, if we don't take any action it has the potential.
"[I will] celebrate the world champion, let a couple of days pass, let the emotion cool down and have a chat.
"It's never easy and it wasn't easy the first time around. I think we have some experience and we just need to have a calm approach and a firm approach of how we would like them to compete out there."
When it was put to Wolff that Rosberg could treat Hamilton differently, Wolff admitted: "That danger is for sure imminent."
And when asked specifically about the first corner incident between Hamilton and Rosberg, Wolff replied: "It's very hard.
"Lewis came on the radio and said it wasn't on purpose, I think it's something that we are going to talk about in a couple of days but this is the moment to celebrate a world champion who deserves to be a world champion and once the emotions have cooled down we will discuss."
Hamilton takes title after dramatic USGP victory
Lewis Hamilton: Three-time F1 world champion
AS IT HAPPENED: United States Grand Prix
Click here for the F1 drivers' girlfriends gallery
Keep up to date with all the F1 news via Facebook and Twitter