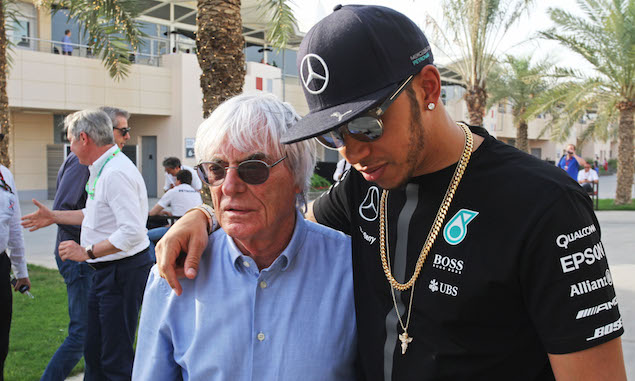 Formula One supremo Bernie Ecclestone says Lewis Hamilton is in the top five of the sport's world champions.
Hamilton wrapped up back-to-back championships - and his third overall - at the United States Grand Prix on Sunday, sealing the title with victory in a dramatic race. When asked if Hamilton rates in the top five all-time champions within the sport, Ecclestone replied: Yeah, as a champion it's what he does for you guys and the sport which is so good."
This year's triumph moves Hamilton alongside Ayrton Senna, Niki Lauda, Sir Jackie Stewart, Sir Jack Brabham and Nelson Piquet in terms of championships won, with only Michael Schumacher (seven), Juan Manuel Fangio (five) and Alain Prost and Sebastian Vettel (both four) having won more.
However, Ecclestone says it is difficult to rate drivers from different eras against each other, saying not every driver achieves the number of titles they deserve.
"You know it's difficult to assess these things with different cars and different teams, everything is different. I've always been thinking that if you had to asses. Prost was probably the best and should have won another couple of championships and was unfortunate not to."
Lewis Hamilton: Three-time F1 world champion
Technical analysis: United States
Click here for the F1 drivers' girlfriends gallery
Keep up to date with all the F1 news via Facebook and Twitter