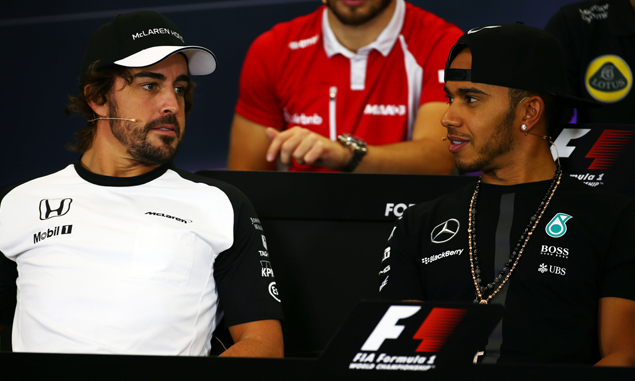 Fernando Alonso thinks the only way for McLaren-Honda to solve the MP4-30's "fundamental" issues is to "copy" their rivals over the winter.
The Spaniard recently declared that a gain of 2.5 seconds was a "realistic" target ahead of 2016, though racing director Eric Boullier warned it would need a "major breakthrough" to achieve it.
McLaren and Honda have endured a challenging reunion this year, in the wake of the Japanese manufacturer's struggles with the current power unit technology, especially the turbocharger and energy recovery systems.
"I think the lack of performance we have in some areas of the car are quite fundamental issues, which should have a not too difficult answer," said Alonso, who will serve yet another grid penalty this weekend, and drop 10 places for using an 11th internal combustion engine (ICE) at Autodromo Hermanos Rodriguez
"It's just we need to copy the direction everyone has apart from us. It's some of the time that we feel we will recover with not much penalty, because for the others they already have it in their package.
"So some of the performance gain we expect will come for free but it's true that all the competitors will work very hard over the winter and they will recover a couple of seconds also, so we need to make an extra, but we are feeling optimistic, we feel confident of next year being very competitive.
"We are realistic at the same time. We understand that in Formula One there are no magic things for being one year out of Q1 and the next year fighting for the championship – that's a very, very optimistic target but we will try our best."
Alonso came close to securing a third points finish in 2015 last Sunday at COTA only to be denied by an electrical issue on his upgraded Honda power unit.
Despite the repeated setbacks, the double world champion is confident his team is making headway on its recovery, and insists his motivation remains the same.
"All the new parts that we bring to the races they seem to deliver what we expect from them. Definitely there is a very nice direction in the team this year. It has been tough; it has been frustrating at times. But we kept all united, we kept all moving in one direction, one team and for next year I think we are putting some of the problems we had this year in [their] place for next year.
"So you keep enjoying racing and when the circuit suits a little bit our car there is a little bit of extra motivation and we push a little bit harder. It was the case in Austin, where we felt more competitive in all sessions over the weekend.
"In the race as well, it has been probably the best race of the year for me, Austin. In the first 20 laps I think in nine of them was quicker than Lewis and this didn't happen for the past two years and a half!"
Chris Medland's Mexican Grand Prix preview
Exclusive pictures of the Honda power unit
Click here for the F1 drivers' girlfriends gallery
Keep up to date with all the F1 news via Facebook and Twitter