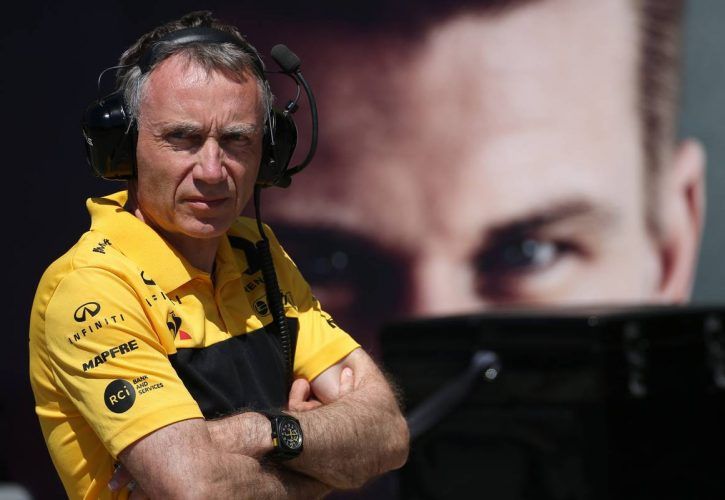 Renault has announced that current chief technical officer Bob Bell will relinquish his role but remain involved with the french outfit on a part-time basis as a technical advisor.
Bell initially joined Renault back in 2001, officiating as its technical director in 2003 and during its very successful 2005 and 2006 season.
He departed Enstone at the end of the 2010 season to move over to Mercedes, with whom the British engineer remained until April 2014. He then enjoyed a short spell with manor Marussia before rejoining Renault in February 2016, following the manufacturer's buy-out of Lotus.
"In an evolution of his current role, and in addition to participating in strategic projects to support the team's long-term growth and development, Bob will take responsibility for developing technical collaborations with third parties to explore specific expertise and technologies that can contribute to the team's overall performance," said Renault Sport in a statement released on Tuesday.
"Currently Chief Technical Officer, Bob played an instrumental role in the plan for Renault to return to Formula One as a factory team and establishing the team's technical structure. However, after 36 years in Formula 1, he has understandably expressed a desire to move away from front-line action while exploring other interests outside the sport. He will fulfil his new role on a part time basis."
"Bob will take on this strategic, transversal role, reporting directly to managing director Cyril Abiteboul. Bob will not be replaced in the position of F1 Chief Technical Officer now a fully functional and agile collaboration between Viry and Enstone has been implemented."
Cyril Abiteboul, managing director of Renault Sport Racing, commented:
"In just two and a half years he has helped to make Renault Sport a genuine and respected points scorer. He's also a massive part of the heart and soul of the team and a real motivator for everyone to draw together and get the best from themselves and each other.
"Under this planned transition within the team's executive management, Bob will now look closely at how to work with our partners but also the different stakeholders of Formula 1, and of the Renault Nissan Mitsubishi Alliance, to ensure we continue to move even further up the grid."
Gallery: The beautiful wives and girlfriends of F1 drivers
Keep up to date with all the F1 news via Facebook and Twitter