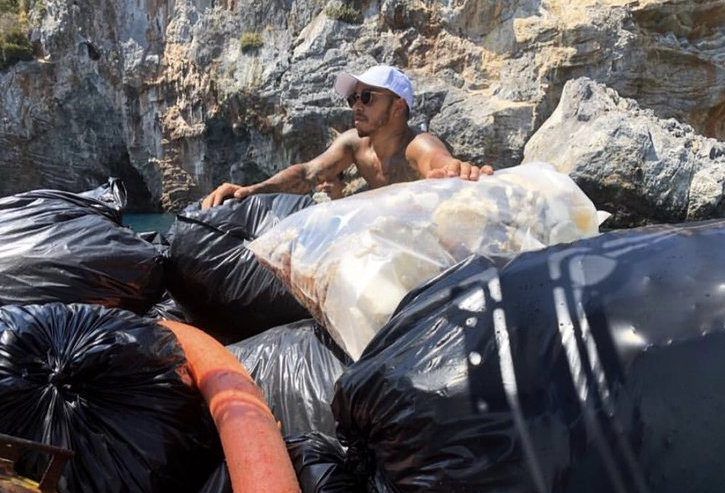 Lewis Hamilton may be on holiday, but the four-time world champion went on a clean-up mission this week, spending a few hours in the rubbish, cleaning up a beautiful cove while denouncing plastic pollution.
The Mercedes driver took off for Greece after the Hungarian Grand Prix, friends in tow, for a well-deserved summer break.
The group settled in at Mykonos but an excursion off the beaten tracks led to the discovery of a cove littered with all sorts of debris, plastic and detritus.
Hamilton posted a video on Instagram highlighting the presence of the rubbish and the impact on the environment of all the plastic bought and thrown away by people.
"I'm in just one of so many beautiful parts of the world today when we stumbled across this mess," he wrote. "We couldn't stand by, we had to do something…"
The 33-year-old denounced "profit fixated" companies and urged everyone to boycott those who mass produce plastic bottles and polystyrene materials.
"I just wanted you guys to see the impact you're having when you buy plastic and throw it away. This is where it goes. It's disgusting," he said.
"What you end up buying ends up in the damn sea. Think. Think about it. We came here and this was completely covered in plastic bottles.
"We all need to act, we must stop supporting companies that are blindly fixated on their profits at the expense of our beautiful planet!"
While Hamilton received overwhelming support on social media for his action, a few followers also brought up some good points.
"Hey @F1 how about starting with banning disposable plastic water bottles at races including in the driver's room? Install bottle refilling stations instead please. Next: eliminate plastic bags and swag in the promo and souvenirs dept," tweeted @allhankynopanky .
Another took aim at Hamilton's sponsorship ties with companies hardly helping the driver's cause.
"You mean like L'Oréal, Sony or Puma? Maybe when virtue signaling to the rest of the world what we should do, you should do more than criticise the same ones putting money in your own back pocket.
"Care that much? Cut ties. THAT makes a statement, until then hypocritical sycophant!"
Still, until multi-national corporations start seriously addressing the issue, a clean-up is in the works. And Lewis is doing his part. Are you?
Gallery: The beautiful wives and girlfriends of F1 drivers
Keep up to date with all the F1 news via Facebook and Twitter