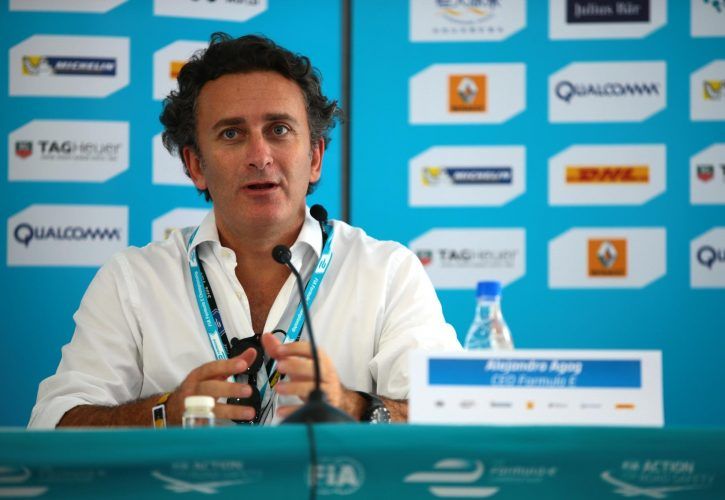 Ross Brawn says it's conceivable Formula 1 could become a fully electric series in ten years' time, but Formula E boss Alejandro Agag reminded the F1 sporting manager of one legal reason why it can't.
Brawn sees Grand Prix racing likely evolving over the next decade, saying there would be "nothing to stop" F1 from eventually switching to electric engines if the technology became a compelling one for the sport.
"If in five years' time or 10 years' time or whenever there is a need, desire, wish to have a different type of power unit in Formula 1, we'll do it," Brawn told the F1 Fan Voice website.
Formula E boss Agag was quick to push back on Brawn's claims however, insisting his series' exclusive long-term agreement with the FIA would bars Formula 1 from switching to electric engines.
"Ross said that Formula 1 could go electric in 10 years – and basically, they can't," Agag told Motorsport.com.
"Formula E has an exclusive licence with the FIA for 25 seasons, and we've only done four. So the earliest Formula 1 could go electric is 2039, if we don't renew our agreement with the FIA then, but I don't see any reason why we shouldn't renew for longer.
"We have exclusivity until at least 2039 – so no electric F1 until then at least. If they want to talk to me then of course that's a different question – I'm always open to talk to people.
"But without talking to me there is no way they can do anything fully electric," he added.
"They could do it outside of the FIA, but then they couldn't call it Formula 1, because Formula 1 is a name that belongs to the FIA, so the whole thing is pretty sealed."
While many may view Brawn's comments as a threat long term to Formula E, Agag reiterated his belief that the two series are compatible.
"I think we are very different and we are totally compatible," said the Spaniard.
"There is no competition whatsoever, they are [two] completely compatible series. I have great admiration for Ross Brawn, but in this case he just got the maths wrong."
Gallery: The beautiful wives and girlfriends of F1 drivers
Keep up to date with all the F1 news via Facebook and Twitter