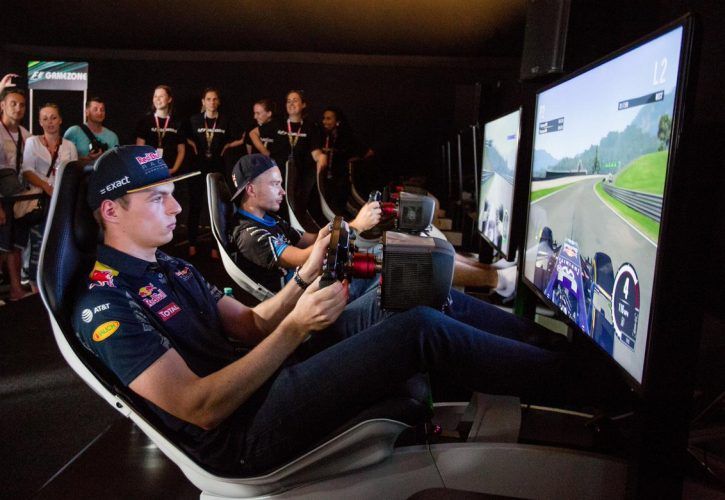 Red Bull's Max Verstappen sees the virtual and real worlds of F1 coming together as sim racers take on an active development role with the sport's teams.
The Esports craze is ramping up big time and Formula 1 isn't missing out on the action with all of the sport's teams - with the exception of Ferrari - set to field their own virtual outfit in an upcoming championship.
According to Verstappen - a diehard gamer in his own right when he's not racing in the real world - sim racers can benefit teams by undertaking extensive development work in an outfit's simulator.
"F1 had been a bit behind in with esports so it's good," the Dutchman told website WTF1.
"I know a lot of esports drivers, they are very, very quick. At one point they can also support us, doing simulator work a lot more instead of us going to the factory all the time to do the simulator.
"I think it would be nice if they could eventually do that."
While Verstappen's idea is an interesting one, McLaren has already made the step, allocating important F1 sim work to Rudy van Buren, the winner of its World's Fastest Gamer competition.
"It's a great opportunity [for Rudi]. I think it was a really good competition as it's not only getting someone that is actually good at driving, but also at things like PR," added Verstappen.
"He can talk and can actually help the team. He's an extra man so, they had to go through a physical test as well, so yeah I think it was a good process.
"You see it in a lot of sports, I mean football as well. The guys who are playing Fifa make a lot of money out of it, so it's good."
Gallery: The beautiful wives and girlfriends of F1 drivers
Keep up to date with all the F1 news via Facebook and Twitter