Future Ferrari driver Charles Leclerc admits to keeping two very special people in his thoughts whenever he's in a race car and especially when he's standing on the highest step of the podium.
Leclerc's road to Formula 1 has been well chronicled, a path lined with triumph but also tragedy, having endured along the way the loss of his father Hervé, and his godfather and mentor Jules Bianchi.
Bianchi and Leclerc grew up racing together and spending hundreds of hours at the same karting track in Brignoles, managed by Bianchi's father.
The French driver's passing in July 2015 as a result of injuries sustained in the 2014 Japanese Grand Prix, was a massive blow for the burgeoning young talent.
"The first time I started driving was with him at his track in Brignoles," said Charles, speaking to Mobil 1 The Grid's Jennie Gow.
"He has always been a massive help with me. When I started Formula [racing], he was always there.
"At the end of the first day, I would call him and say, 'This thing I'm not so good [at]', and he could explain it to me, and I've improved probably a bit quicker than the others thanks to him, because he helped me during my career when he was there, and he's definitely truly missed, as a person especially, but also as a help."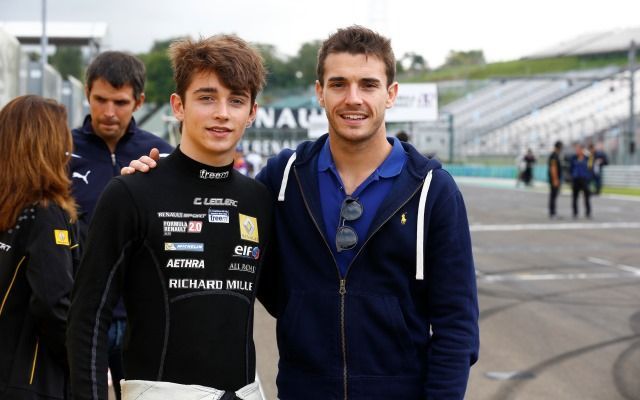 While Jules was no longer by his said, Leclerc still benefited from the unwavering support of his father, until last year when a terminal illness set in and Hervé died just days before his son's F2 race weekend in Baku.
Afflicted with a broken heart, the teenage Monegasque collected all his determination and drove to an emotional win.
"It was definitely very hard because I lost him on the Wednesday before the race. It was very, very fresh," Charles remembered
"The thing I told myself was that [my father] seeing me racing was everything, and he would not want me to be destroyed before the race and do a bad race.
"The only thing he would want me to do was win for him and we won race 1 and we won race 2 on track, although we took a 10-second penalty that put us P2, but in my mind it will stay as a good memory, that weekend, and I'm very happy to have honoured him this way."
Needless to say, both his father and Bianchi are permanent residents in his thoughts and heart, and Leclerc knows just how proud they would have both been to witness his effective promotion to Ferrari.
"I think to them every time I win a race, and when things are going well," he said.
"I'm sure that they are up there and looking at me, smiling.
"My father was definitely very proud when I told him I had signed in Formula 1, even though it was a bit earlier than I had really signed.
"But at the end I didn't really lie because I am here and now in Ferrari, which feels incredible," he added.
"Jules probably deserved this place more than I do and I'm extremely happy to be the one that has his place. I will try to honour him in the way he deserves."
Gallery: The beautiful wives and girlfriends of F1 drivers
Keep up to date with all the F1 news via Facebook and Twitter