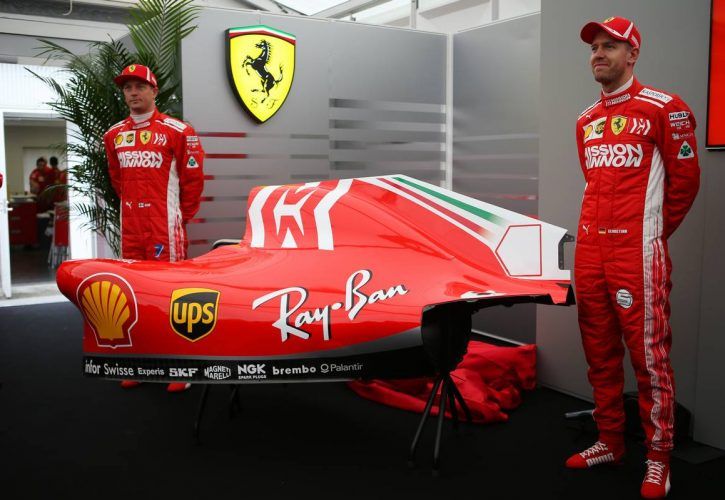 Scuderia Ferrari pulled the covers off a new livery and branding scheme at Suzuka on Thursday, revealing along with long-time commercial partner Philip Morris International a new global initiative called 'Mission Winnow'.
The leading international tobacco company, which has enjoyed a 45-year association with Ferrari that has extended well beyond the ban of tobacco sponsorship in Formula 1 in 2008, is building its future on smoke-free products and electronic devices, a challenging vision for a company so closely associated with cigarette smoking.
For the first time since that ban came into force, Ferrari will be running a car promoting a proper Philip Morris brand, with the 'Mission Winnow' logo displayed on the SF71-H's engine cover, rear wing, Halo and on the overalls of drivers Sebastian Vettel and Kimi Raikkonen.
"Through Mission Winnow we want to let the world know how we have changed, to share our pride in the transformation that the people of PMI have achieved, as well as our dedication to rigorous science and innovation that can lead to a better future," said André Calantzopoulos, Chief Executive Officer of PMI.
"We will use this global platform as a window into the new PMI and to challenge preconceptions, as we know there are many who may have doubts about us and our motivations.
"Our partnership with Scuderia Ferrari gives us the opportunity to build on many encouraging individual conversations with critics and supporters alike and reach out to a broad audience to engage at scale."
PMI states that "the word 'winnow' was selected because it perfectly describes the meticulous and disciplined route that PMI is following to achieve its ambitious vision of a smoke-free future. The word—and PMI's vision—is about focus, transparency, care and single-minded determination.
"'Winnow' originally referred to the removal of chaff from grain, but it came to be used more broadly to describe the separating out of the unnecessary, the extraction of the good and distinguishing what is true from what is inaccurate or misleading. For PMI, this is critically important in a world of information overload."
The fight for the world championship resumes this weekend in Suzuka, with Ferrari's Sebastian Vettel trailing current leader Lewis Hamilton by 50 points, while the Scuderia's deficit to Mercedes in the Constructors' standings is 53 points.
Gallery: The beautiful wives and girlfriends of F1 drivers
Keep up to date with all the F1 news via Facebook and Twitter