Mercedes F1 team boss Toto Wolff has praised the skills of Mick Schumacher, after the 19-year-old clinched the 2018 European Formula 3 championship on Saturday at Hockenheim.
Schumacher was only 12th in the first of the weekend's three races, but bounced back in race 2 to finish in second place and thereby mathematically seal the title.
"It's a slightly unreal feeling - I'm absolutely delighted," Mick said afterwards. "I still can't quite believe it.
"I am really happy with my title win. I can hardly describe what a beautiful feeling it is to be doing something that you love really well."
He was second again in the final race of the season on Sunday morning, with victory going to his PREMA team mate Robert Shwartzman. Motopark driver Dan Ticktum held on to the runners-up spot in the championship after finishing the final race in fifth.
Wolff was quick to congratulate Schumacher for clinching Mercedes' 500th F3 race win as well as taking home the title.
"Attention was focused on the youngster right from the start, and he was under a lot of pressure," Wolff pointed out. "It's not easy coping with all that, especially if the season does not get off to the best of starts, as in this case.
"His performance in the second half of the season was therefore all the more impressive. He has shown that he has what it takes and that he can become one of the greats in our sport."
Former F1 driver Gerhard Berger also added his congratulations to the youngster.
"Of course, I am happy for Mick," said Berger. "He has prevailed and won the title early with a podium finish by his own means today.
"Mick doesn't only look like his father, doesn't only have the same posture and the same walk, he even has his father's forearms as I noticed yesterday.
"But the decisive thing is: particularly in the past weeks, he has proven that he has his father's racing driver genes!
"When he is able to keep on delivering this performance, his career path will bring him into Formula 1."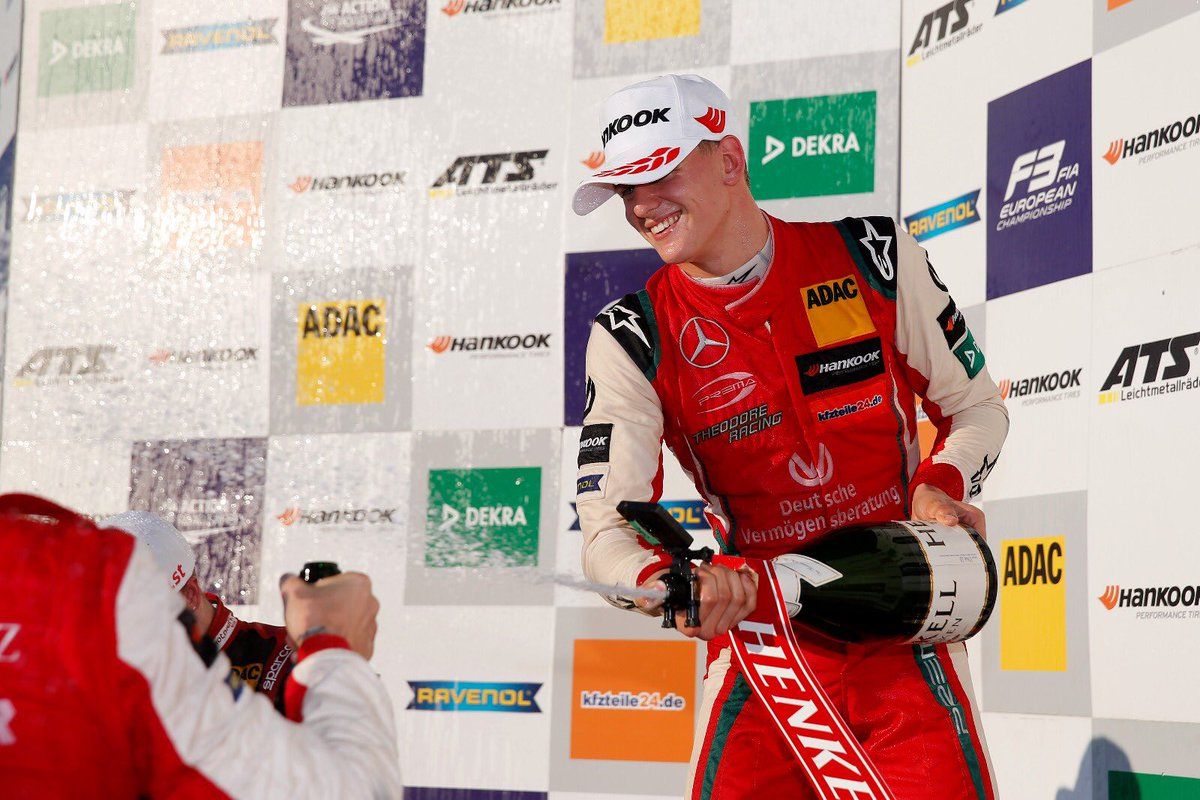 Inevitably his success in this year's F3 campaign has led to speculation that Mick Schumacher could be about to follow his famous father into Formula 1.
While Ross Brawn has warned the teenager not to rush straight in, other voices have urged him to break into F1 as soon as possible.
"I don't think there's a right or wrong," said current Williams driver Lance Stroll. "Some drivers get a chance to get into Formula 1 and you have to go for it.
"Other drivers are in different situations. It's very dependent from driver to driver, everyone has their own unique situation.
"He's done a really good job, especially in the second half of the season. Looks like he's put it all together."
But Stroll did warn his contemporary that moving from F3 to F1 would be a huge step that woudl take a lot of getting used to.
"It's definitely a big jump from Formula 3, you're looking at like 15 seconds, probably more, 20 seconds of lap time depending on the track.
"The power you get used to quickly," added the Canadian. "It's really how to optimise the car. The tyres also ... It's definitely a big jump."
Gallery: The beautiful wives and girlfriends of F1 drivers
Keep up to date with all the F1 news via Facebook and Twitter