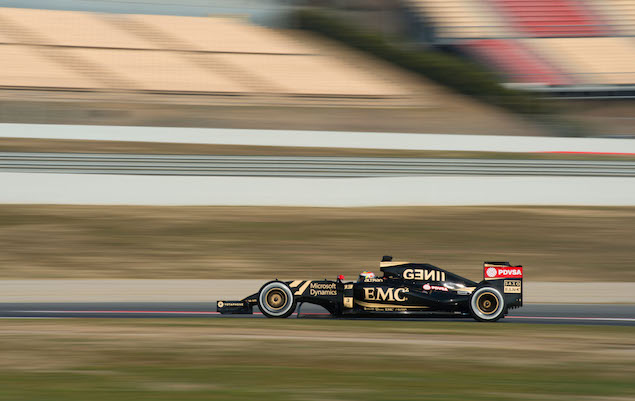 Pastor Maldonado set the fastest time of an eventful opening day of the second pre-season test at Barcelona.
Maldonado's time of 1:25.011 came in an afternoon session hit by a red flag due to a crash involving Susie Wolff and Felipe Nasr. The Williams and Sauber collided on the approach to Turn 5, with the latter doing an impressive job to get Nasr back out on track with half an hour remaining despite the car having been heavily damaged in the incident. However, Nasr then stopped again at Turn 9 in the closing minutes to bring the day to an early end.
The Lotus didn't appear for the first part of the afternoon session having caused two red flags in the morning, with Maldonado twice stopping at Turn 5. Nasr had been quickest in the opening four hours of the day, but Kimi Raikkonen immediately went fastest on his first lap after the lunch break before being displaced by Maldonado late in the day.
Raikkonen still ended up second after another day of solid running, with his total of 74 laps being towards the higher end due to the number of incidents. Mercedes was unable to follow up its  Jerez reliability as first driver Lewis Hamilton succumbed to a fever after 11 laps and then a fuel system issue limited reserve driver Pascal Wehrlein to 48 laps across the rest of the day.
Wehrlein had started the day driving for Force India, but he was called up to replace Hamilton after two hours, which resulted in Sergio Perez taking over the VJM07. Force India is running its 2014 car to carry out tyre testing as its new car is not yet ready, and Perez set the fourth quickest time behind Maldonado, Raikkonen and Daniel Ricciardo.
Red Bull was another team to struggle for mileage on Thursday, with Ricciardo barely reaching double figures by lunchtime. An off at Turn 1 didn't help matters, but he was the only man other than Raikkonen to get within a second of Maldonado's time.
Nasr dropped to fifth in the standings following his collision with Wolff, but still managed a total of 79 laps. It was Max Verstappen in sixth who completed the most mileage as he clocked up 94 laps in what appeared to be a relatively trouble-free day for Toro Rosso.
The same could not be said for McLaren, which once again had to curtail its running early. Jenson Button had managed an encouraging 21 laps during the first two hours but Honda soon noticed some anomalies on its data and found an issue with an MGU-K seal. With an engine change required, Button's running was ended for the day and Honda confirmed a new part would have to be designed. With the replacement not due until Saturday, Fernando Alonso will run on Friday with the current configuration which could again limit mileage.
Wehrlein's name appeared twice on the timing screen as he set best times just 0.160s apart in the Force India and Mercedes, with the quickest time coming in the VJM07. Wolff returned late in the day to add a few laps to what had been an impressive total before the incident with Nasr, finishing with 86 laps and a best time of 1:28.906, while the unwell Hamilton was slowest.
Full times and day one of the second test as it happened
Click here for the gallery from day one of the second test
Keep up to date with all the F1 news via Facebook and Twitter