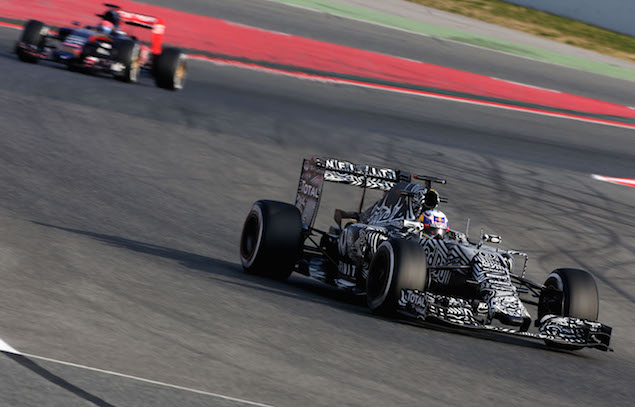 Daniel Ricciardo says Red Bull is "definitely making progress" with the RB11 despite a disjointed first day of the second test at Barcelona.
A number of red flags and incidents prevented any team from reaching 100 laps on Thursday, with Ricciardo spending much of the morning session in the Red Bull garage. However, he managed to complete a total of 59 laps by the end of the day and having set the third quickest time Ricciardo is confident he can see improvement with the car.
"I think the bigger problems seem to be solved today," Ricciardo said. "Now it's just about fine-tuning and trying to make it a bit more drivable and get the power down when we need it etc. In terms of global problems it was OK. Today for sure we didn't do 100 laps but we didn't have to go through any engine change or anything big like we faced in Jerez, so we're definitely making progress on that front."
And Ricciardo notes an increase in power from the Renault engine, saying Red Bull is still building up to using it at 100%.
"We're getting there. We're still trying to sort out a few other things just to make the car a bit more drivable from inside the cockpit. But we're getting a few more horses out of it now so I think once we put it all together it will start to look a bit more racey.
"I feel there's more power there to be used and now we're just trying to mould it to a point where we can use it in the right places. But it does feel like there's more ponies in there, which is encouraging."
Click here for the gallery from day one of the second test
Keep up to date with all the F1 news via Facebook and Twitter