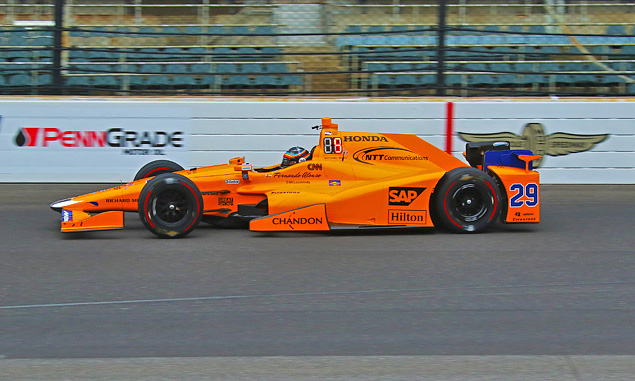 McLaren has confirmed that its return to the Indianapolis 500 in May will be in association with Chevrolet, which will provide the engines for Fernando Alonso's second appearance in the iconic event.
Alonso's maiden run in the 2017 Indy 500 was powered by Honda engines, as the McLaren F1 team was at the time in partnership with the Japanese manufacturer. However that alliance soon came to an end, with McLaren moving to Renault power units this season and Honda teaming up instead with Toro Rosso.
That break-up would have made it difficult for McLaren and Honda to collaborate again on another Indy 500 campaign for 2019, and so it's no surprise that the team has instead struck a deal with Chevrolet.
"McLaren and Chevrolet have a shared pedigree in North American motorsport," McLaren chief executive Zak Brown said on Tuesday. "The opportunity to reunite the two brands for this special event was just too good to pass up.
"Like McLaren, Chevrolet has racing in its heart," he added. "The company's reputation in IndyCar and at this special race is first-class and they will be a powerful partner."
Chevrolet will provide McLaren with its 2.2-litre twin turbocharged direct injected V6 IndyCar engines for the month of May.
Alonso - whose first Indy run came to a premature end with engine failure - was delighted by the new arrangement for 2019 which he hopes will see him become only the second driver in history to complete the unofficial Triple Crown of Motorsports after Graham Hill.
"It will be a privilege to wear the Bowtie Brand at the 2019 Indy 500," he said. "Having Chevrolet power behind me means we're putting ourselves in the best possible position to compete at the front.
"I had a bit of a taste of Chevy power earlier [last] week in Jimmie's NASCAR and I liked it!" he pointed out. "The opportunity to contest any Indy 500 is an honour, so I'm proud to have Chevrolet as part of the team."
Alonso will also be teaming up with another of General Motors' brands, Cadillac, for his return to next months' Rolex 24 Hours at Daytona.
"It's exciting to partner with Fernando Alonso and McLaren for the 2019 Indianapolis 500," commented Jim Campbell, Chevrolet's US vice president of performance vehicles and motorsports.
"Chevrolet and McLaren have a storied racing history dating back to the mid-1960s," he added, referring to over 40 wins together in the Can-Am championship in the early 1970s.
"Fernando brings incredible driving talent, and a passion for the sport and winning the biggest races in the world. When Fernando is on track, it's electric. He generates excitement among fans everywhere."
Bob Fernley, the former deputy team principal at Force India who is now president of McLaren's IndyCar operations, explained the significance of this week's announcement.
"Our partnership with Chevrolet is a key piece of our plan for the 2019 Indy 500," he said. "As the reigning winning engine, the Chevrolet motor puts us in a strong position to contest this incredibly challenging event.
"We've quickly established a strong working relationship with the Chevrolet team, who are absolute professionals, committed to the challenge, and true racers."
Gallery: The beautiful wives and girlfriends of F1 drivers
Keep up to date with all the F1 news via Facebook and Twitter