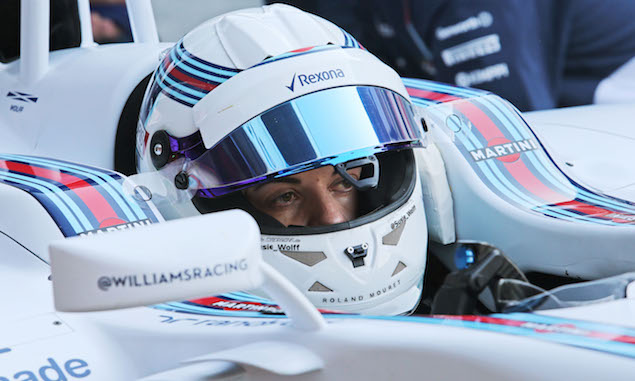 Susie Wolff has branded her coming together with Felipe Nasr "stupid and unnecessary".
The Williams reserve driver was on an outlap and the Sauber rookie on a flyer when the pair tangled under braking at turn 5 of Circuit de Catalunya shortly after the mid-session break. Damages on her FW37 meant Wolff had to sit out most of the afternoon, even though she was still able to head back on track in the final half hour only for another small issue to put a definitive end to her day.
Describing the collision to the press after the opening day of Barcelona testing, the Scot even pulled out her phone to show video footage from race control to back up her case.
"For me, I stayed completely on my line and I did not expect him to move across as aggressively as he did," said Wolff. "He hit my front left with his rear. It was an unfortunate incident but not something that I could have avoided.
"I went over to him and said 'what the hell went on?' And he was a bit speechless and to be honest I was also a bit speechless because it was one of things that happened and you say to yourself 'how the hell could that just happen?'
"I heard some things afterwards that I apologised but I most certainly did not apologise because in my mind I had nothing to apologise for. But I'm not here to say 'OK I blame him or does he blame me?' It was just a stupid, unnecessary thing to happen."
Wolff could however find solace in being able to complete a race simulation during the morning session. Indeed, the Williams reserve, who had not driven an F1 car since FP1 at last year's German Grand Prix, racked up solid mileage and focused on reliability as she got to grips with the new FW37 over long runs.
"In reality, the morning work was the most important for the team so in that sense, they got everything they needed. Reliability and long runs were the focus of this test. The afternoon was more for me so we did not miss that much from a team's perspective. But it would have been nice to get a couple of quick laps and actually feel the car lighter and more on the limit on good tyres."
Wolff will now hand over testing duties to Williams regular driver Felipe Massa for day two of this week's session at Circuit de Catalunya.
Full times and day one of the second test as it happened
Click here for the gallery from day one of the second test
Keep up to date with all the F1 news via Facebook and Twitter