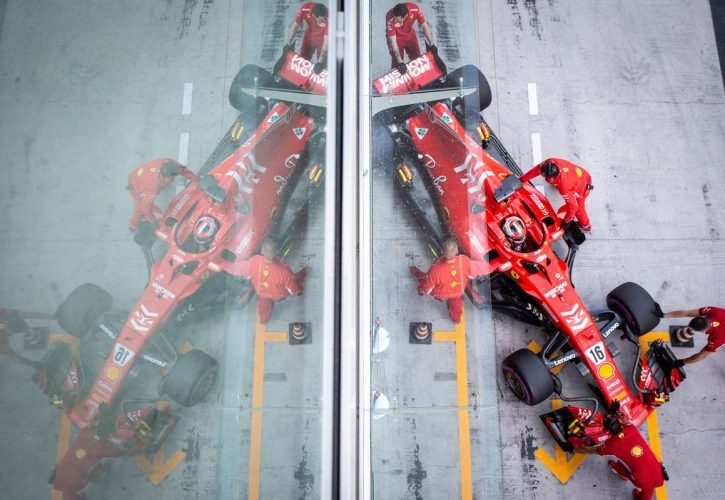 Ferrari team boss Maurizio Arrivabene says the Scuderia is in the final production stage of its 2019 war horse which will be put on track for the first time in Barcelona in mid-February.
The car - which will likely follow its current terminology and be named SF72H, or perhaps include a tribute to former Ferrari boss Sergio Marchionne - will be presented on February 15 in Maranello, three days before the start of winter testing.
"The group led by Mattia Binotto has been working on next year's single-seater for months now," said Arrivabene on Thursday, speaking at the annual Autosprint awards event in Milan.
"The engines are already running on the test benches and there are parts of the car that are already in production.
"The parts more related to the performance will arrive at the last moment, even if the tension increases because the time is less and less. On February 15 we will present the car and everything must be ready for that day."
Addressing Formula 1's 2019 aero changes, Arrivabene insisted that it was too early to draw any conclusions from the new regulations.
"It is too early to give an overall picture of the car," he added.
"Simulations are being done and we are working on the simulator, but the real test bench is only the track.
"That's where you confront yourself, comparing the data you've collected during the winter period, and especially where you confront yourself with others.
"The technicians are working hard to complete the car. We have some information from the guys who work on the simulator, but it's still too early to talk about performance."
After missing out on the title in the last stretch of the past two season, Ferrari will pin its hopes once again on Sebastian Vettel, flanked in 2019 by the massively talented Charles Leclerc.
"He is a guy who has yet to express the best of himself in Ferrari, but I am sure he will be able to do it next year," said Arrivabene.
"This year we lost in the semi-finals, but we never gave up. Obviously, we need to take one more step. We must understand all the mistakes we made together.
"Seb can teach Leclerc so much. We have great confidence in him, he is a talent but we have to protect him and make sure that his arrival does not burn his talent."
Gallery: The beautiful wives and girlfriends of F1 drivers
Keep up to date with all the F1 news via Facebook and Twitter