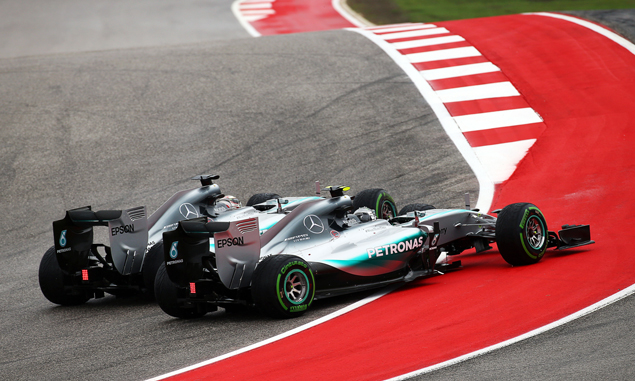 Mercedes motorsport boss Toto Wolff thinks the ongoing duel between his two drivers – Lewis Hamilton and Nico Rosberg – is "great" for Formula One.
The pair has been battling for the title almost on their own for the past two years, as their team rules the F1 roost in the 1.6-litre V6 turbocharged era. Over that span, Hamilton and Rosberg's relationship has been peppered with tense flashpoints, the latest at Austin where the German felt he was ruthlessly pushed wide by his team-mate at the start.
Despite warning his pilots to avoid causing controversy across the remainder of the season, Wolff enjoys watching Hamilton and Rosberg fight it out on track and claims this is actually beneficial for Mercedes.
"We now have two races remaining to watch an intense and entertaining battle continue," he said in the team's Brazilian Grand Prix preview.
"The rivalry like we have between Lewis and Nico is great for the sport, great for the team and great for the drivers themselves.
"They are pushing each other harder and harder, pushing the team forward with them and providing a fascinating story.
"Of course, they are never without pressure from rivals further afield. Ferrari had a bad weekend in Mexico but they will no doubt be a threat in Brazil – as will Williams after another podium finish last time out.
"This is a race which often brings surprises and never fails to entertain. I, for one, am looking forward to seeing what's in store for us at Interlagos."
Click here for an exclusive Q&A with Jolyon Palmer
Use the red tabs on either side of the screen to scroll through more Formula One news and features
Click here for the F1 drivers' girlfriends gallery
Keep up to date with all the F1 news via Facebook and Twitter