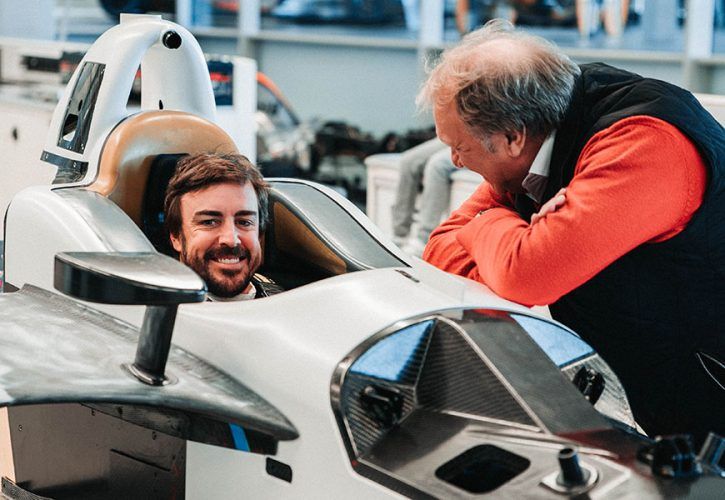 McLaren has forged a technical partnership with Carlin Racing for its return to the Indy 500 with Fernando Alonso in May.
Slowly but surely, McLaren Racing's Indy efforts are taking shape, with the addition of Carlin and a series of high profile individuals to its programme.
Just as McLaren relied on Andretti Autosport for its 2017 endeavor, the team will partner with Carlin Racing's IndyCar entity based in the US for this year's return to the legendary Brickyard.
RACERS's Marshall Pruett has reported that McLaren has also brought onboard veteran IndyCar engineer Andy Brown, whose credentials include multiple championships and Indy 500 wins with Chip Ganassi Racing, and experienced crew chief Anton Julian who will oversee the crews set to set work on Alonso's Dallara DW12-Chevy.
"It can be dangerous for a one-car team at Indianapolis, and even with someone of Fernando's talents, every team and every driver can get lost on setup at Indianapolis," Brown told RACER.
"We were fortunate to be given a great race car by Andretti, and we're going there on our own this time, trying to mitigate against that with Andy Brown, who has four rings, and Anton Julian, who's as good as they come. But we also have tremendous respect for Indianapolis.
"I've seen Roger Penske fail to qualify. I've seen Bobby Rahal fail to qualify. I've seen James Hinchcliffe fail to qualify, so it can happen to anyone.
"So, working with Carlin is a great two-way street we've developed to give us the feedback loop like we had with Andretti's drivers, and they get Fernando's feedback. And we can work in both directions on chassis setup, if it's needed to help them, or to help us."
McLaren and Carlin are well acquainted, with the latter providing its team and services to McLaren F1 driver Lando Norris during all four of his formative years in junior single-seaters.
Furthermore, Carlin team principal is Graham 'Chily' Chilton, the father of IndyCar driver and former Manor F1 driver Max Chilton.
"We have a good history with Carlin, and I've known 'Chily' a long time," Brown added.
"They are a good team, and have more experience than we do in IndyCar.
"We have great people on our team, but this is the first time McLaren Racing is going racing at the Indy 500 in 30 years.
"I want to give McLaren and Fernando the maximum chance at success. Data is king, and having another data point with Carlin, and other reference points to use against our own, is the wisest call.
"We're going to benefit from working with Carlin, and Carlin will benefit from working with us.
"We are not going to Indianapolis underestimating the task at hand. We've seen the benefit of being part of a multi-car team, and working with Carlin to have a teammate will make us smarter."
Gallery: The beautiful wives and girlfriends of F1 drivers
Keep up to date with all the F1 news via Facebook and Twitter