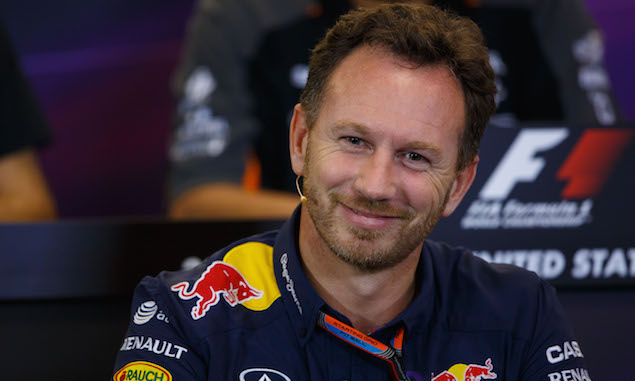 Christian Horner says Red Bull has signalled its intentions to stay in F1 by submitting an entry for the 2016 championship.
Red Bull had threatened to quit the sport if it didn't get a competitive engine for next season, with team owner Dietrich Mateschitz setting a deadline of the end of October for the situation to be resolved. While Red Bull has yet to confirm its power unit plans for 2016, Horner says it has made it clear it intends to stay.
"We've entered the World Championship," Horner told Sky Sports News. "So as long as we sort our engine predicament out, absolutely we'll be there next year."
Horner also says Red Bull is "homing in on something" in terms of a 2016 engine supply, and Daniel Ricciardo admits it is encouraging for the team to hear more positive news about its future.
"It is nice to know," Ricciardo said. "I always had faith that I would be racing. It is the first step towards a better 2016, so it is good news.
"It is good, it is nice to hear some confirmation. I always had a bit of faith for sure. A bit of hope. Danny [Kvyat] and I are still quite young, so it is too early to retire. Now we can really try and set up for 2016 and try to make it better than this year."
Renault upgrade not as powerful as expected - Ricciardo
FP2 REPORT: Rosberg turns the tables on Hamilton
AS IT HAPPENED: Brazilian Grand Prix FP2
Use the red tabs on either side of the screen to scroll through more Formula One news and features
Click here for Friday's gallery from the Brazilian Grand Prix
Keep up to date with all the F1 news via Facebook and Twitter