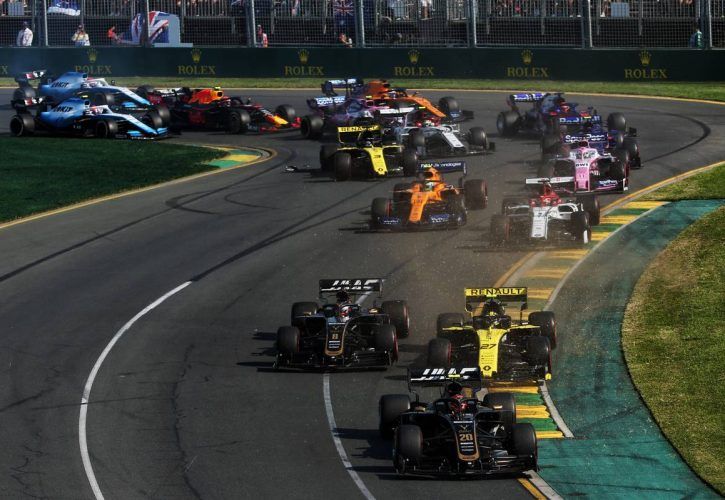 McLaren's Carlos Sainz and Renault's Nico Hulkenberg are both on the same page when it comes to nominating F1's current mid-field leader, with Haas singled-out as the top contender.
The US outfit's performance in the opening round of the 2019 season, where Kevin Magnussen finished 'best of the race', left a big impression on Sainz, with the Spaniard evaluating the performance advantage of Haas' VF-19 at a worrying "half a second" in qualifying trim.
"Haas, they are a bit too far ahead in the midfield for everyone else," Sainz said in Bahrain.
"That is the only bad thing compared to last year, that the Haas is a bit too far away compared to last year.
"It is more than half a second, to close a gap of half a second even in a high development rate this season it would be a very difficult task."
Hulkenberg, whose team won the mid-field battle last year, is equally complimentary of Haas' performance although the German still feels the action will be tight in F1's B-class this season.
"I think Haas are currently leading the midfield," said Hulkenberg.
"The car looks good all round. I also think it's very close but I think the Haas will be better than us in the fast corners."
Sainz has urged McLaren to sustain a healthy development pace this season. But Haas will likely follow suit, leaving its rivals to chase the US team.
"They won't standstill so you need to develop at least seven or eight tenths which is a lot of lap time. My big estimate is it is going to be very difficult to end the year in front of Haas in qualifying.
"I wouldn't say in a race but in pure pace it is going to be very difficult for anyone.
"I don't look at numbers as much as the engineers, I just do my guesses looking at lap times and how good their lap times were compared to mine or my team-mate's.
"I did a rough calculation, this is not an exact number. Half a second is a lot but we will try."
Gallery: The beautiful wives and girlfriends of F1 drivers
Keep up to date with all the F1 news via Facebook and Twitter