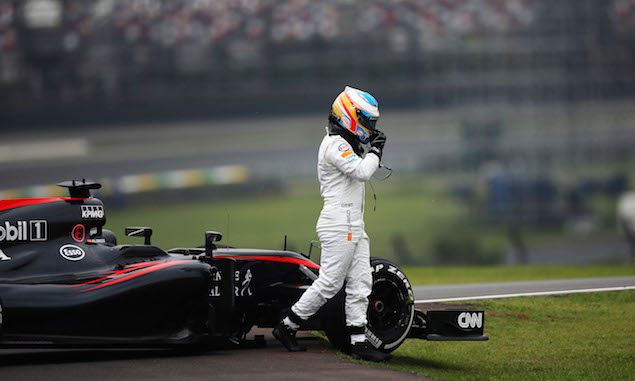 Fernando Alonso says he wants Honda to have more problems in Brazil and Abu Dhabi to ensure it can rectify weaknesses for 2016.
The double world champion has endured a frustrating return to McLaren, scoring on just two occasions due to an uncompetitive and unreliable power unit. FP2 in Brazil saw another failure which requires Alonso to revert to his power unit from Mexico, but he insists he wants more problems to occur.
Asked if he is in a disappointed state of mind, Alonso replied: "Not anymore.
"My head is into next year and I hope to have all the problems here or Abu Dhabi, rather than next year. It's a learning process and it is painful, but it is the only way to succeed, to learn from our mistakes and problems."
With the image of Alonso sitting in isolation on the barrier waiting to return to the pits being seen as a summation of his season, the Spaniard says even drivers who have enjoyed success this year have also had similar instances.
"I have read this image is quite famous already, but I don't know what people expect when you retire and you are waiting for the car to take you back to the garage!
"It's true we are having a frustrating season but we are learning a lot and I think it is more frustrating when you are second or third in the podium, you see some of the faces of the champions this year and the troubles they have as team-mates etc. but it is a strange moment, strange pictures."
FP2 REPORT: Rosberg turns the tables on Hamilton
AS IT HAPPENED: Brazilian Grand Prix FP2
Use the red tabs on either side of the screen to scroll through more Formula One news and features
Click here for Friday's gallery from the Brazilian Grand Prix
Keep up to date with all the F1 news via Facebook and Twitter