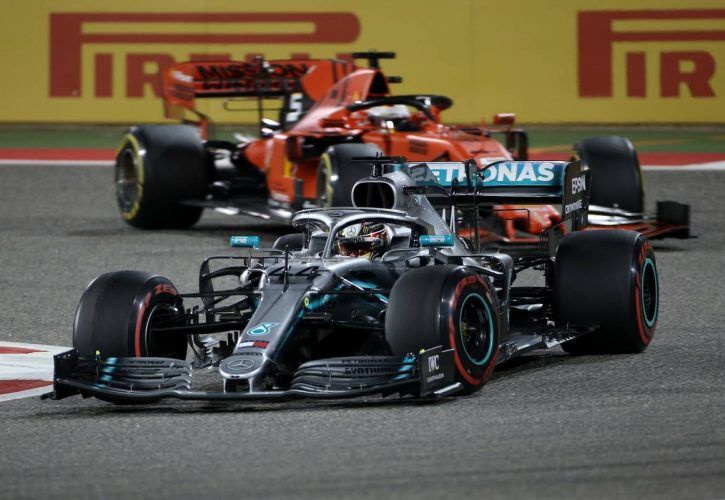 Formula 1 sporting boss Ross Brawn says Mercedes will have taken note of Ferrari's superior pace in Bahrain, with the Italian outfit delivering a loud "wake-up call" to its rival.
The Scuderia was one step ahead of the Silver Arrows squad all weekend, with Charles Leclerc and Sebastian Vettel topping qualifying on Saturday and keeping their opponents at bay on Sunday until circumstances wreaked havoc on their race.
Vettel spun while battling Lewis Hamilton for second while Leclerc's commanding lead dwindled in the closing stages of the event following an engine issue.
Helpless, the Monegasque's dream of securing his maiden Grand Prix win was crushed when he was overhauled by Hamilton and Valtteri Bottas with nine laps to go.
Ferrari's speed and Leclerc's master class performance in Bahrain will warrant a reaction from Mercedes says Brawn.
"If you record two one-two finishes in the first two races, you should be in seventh heaven, believing you have dealt a severe blow to your rivals' hopes," Brawn said in his post-Bahrain Grand Prix debrief.
"And yet, on Sunday, Mercedes boss Toto Wolff openly admitted that while it had somewhat unexpectedly finished ahead of the rest in Melbourne, practically unchallenged, it was a very different story in Bahrain.
"If it hadn't have been for Leclerc's loss of power, Hamilton would have had no chance of attacking the Ferrari, nor would Bottas have finished second, a result that means he keeps his championship lead.
"Mercedes are aware of the real situation and they have to fight back against what is clearly a very competitive Ferrari this year.
"If you've won everything since 2014 there's a risk of resting on one's laurels but Bahrain will have been a wake-up call that they will not be ignoring as they hold their de-briefs at home this week."
Brawn was clearly in the camp of those who considered Leclerc the moral victor of Sunday's race.
In addition to the young charger's speed, the former Ferrari strategist was also highly impressed with Leclerc's "majestic" tyre management and his attitude in the face of defeat.
"F1 can be a really cruel sport," said Brawn. "In Bahrain, after being fastest at almost every stage of the weekend - with the exception of a short period after the start yesterday - Charles Leclerc was living the dream," Brawn explained.
"But then, with just a few laps to go his power unit began to play up and he slowed to the extent that both Mercedes got past him.
"It was a devastating blow for both driver and team, but especially for Charles.
"However, his fall to third place doesn't take away from what was a brilliant performance the talented Monegasque youngster delivered.
"The way in which he regained the lead after a handful of laps, the skill with which he managed his tyres in what was a particularly difficult race due to the blustery sandy conditions, was majestic.
"I also appreciated how composed he was in dealing with what happened at the end of the race," added F1's managing director of motorsports.
"That showed a great deal of maturity, a trait that will serve him well in the future.
"Charles truly deserved a win and the consolation of this first podium finish and I am sure he will be back on top very soon."
Gallery: The beautiful wives and girlfriends of F1 drivers
Keep up to date with all the F1 news via Facebook and Twitter