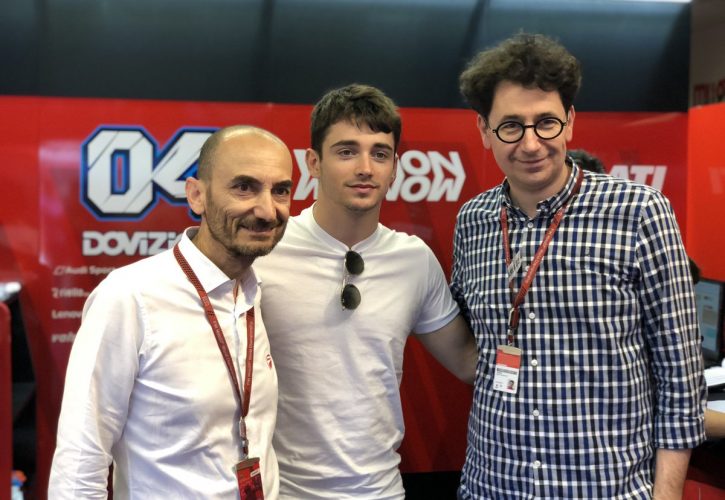 Ferrari's Charles Leclerc was left impressed by his first visit to a MotoGP race last weekend, admitting he would now like to test ride one of the series' bikes.
Before heading to Canada, Leclerc traveled to Mugello for the sixth round of the MotoGP world championship, checking in on the series, the teams and the riders.
"It's very impressive," said the Scuderia charger.
"It's my first time at a MotoGP and to see the speed they are going, especially through the corners on two-wheels is just incredible," Leclerc told the official MotoGP website.
"I drove here back in Formula 3, but being here for the first time at a MotoGP, I now absolutely want to try one of these bikes.
"I cannot ride one straight away, but maybe to train with some bikes on track is the target now."
Leclerc could perhaps follow in the footsteps of Lewis Hamilton who tested a Superbike last year and intends on saddling a MotoGP sometime in the future.
The Monegasque, who was accompanied by Scuderia boss Mattia Binotto, naturally took a keen interest in the Mission Winnow Ducati squad, which won in Mugello with Danilo Petrucci, and felt he was in familiar territory.
"It's extremely busy but I find myself a little bit in my ambience," he added.
"There are two wheels instead of four, but the passion is the same and it's great to see."
Gallery: The beautiful wives and girlfriends of F1 drivers
Keep up to date with all the F1 news via Facebook and Twitter