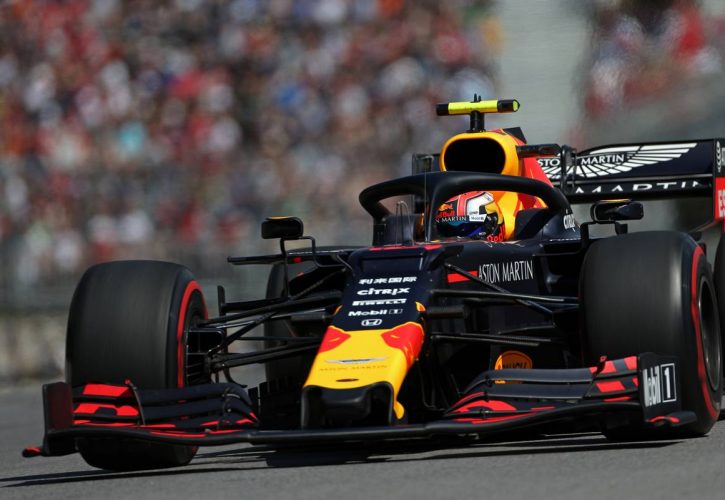 Red Bull's Pierre Gasly said he was unaware of Max Verstappen's presence behind him during a hot lap by the latter in FP2 and sped up too late for the Dutchman to avoid hitting Montreal's uncompromising Wall of Champions.
Verstappen was on a charge at one point in the Friday afternoon session, stringing together personal bests in the first two sectors only to stumble upon Gasly as the pair barreled down towards the final chicane.
The Dutchman lost downforce through the corner and brushed the wall on the exit, the impact damaging his RB15's right-side wheels and depriving Verstappen of track time as repairs ensued.
Gasly said he was only made aware of his team mate's presence at the very last moment by the Red Bull pitwall.
"They told me quite late when I was preparing my lap behind Romain [Grosjean]," he said.
"When they told me I started to push and then he was five seconds behind. They told me he hit the wall, but I didn't exactly see what happened.
"I was trying to prepare my lap but I am sure we will see and talk about it."
Gasly was not at risk of blocking Verstappen but the short distance that separated the two cars as they negotiated the final chicane likely robbed the latter of downforce, hence the mishap.
"I had Pierre in front of me and I think he was told to speed up, but I don't know exactly what happened then," said Verstappen.
"I arrived into the chicane, understeer, and yeah, basically in the wake of his car I understeered into the wall.
"It's a shame. We missed a bit of running because of that, but when we were running I think we looked quite decent. Not perfect but we still have some work to do."
Gallery: The beautiful wives and girlfriends of F1 drivers
Keep up to date with all the F1 news via Facebook and Twitter