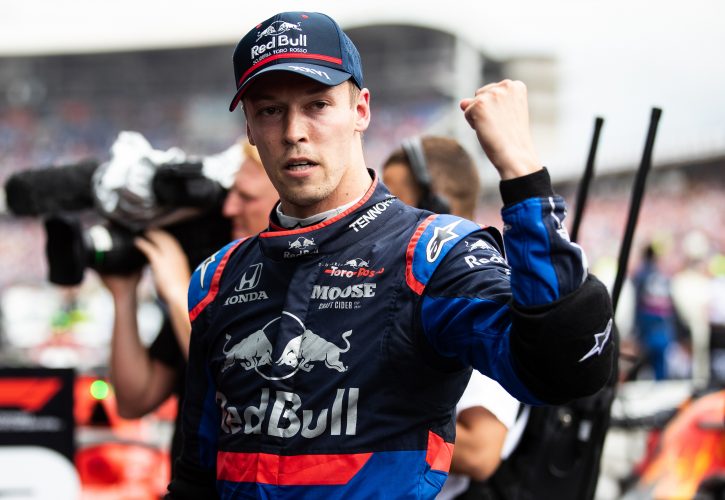 Jacques Villeneuve believes Red Bull would be wrong to re-promote Dany Kvyat to its senior squad but admits the Milton Keynes-based outfit's options are limited.
Kvyat has finished in the points in over half of the races so far this season and put in a spirited drive last weekend in Germany that delivered its second podium finish in its history to Toro Rosso.
The Russian's improved performances after a year on the sidelines coupled with Pierre Gasly's disappointing results with Red Bull year-to-date have fueled rumors of Kvyat's return to Milton Keynes.
Red Bull motorsport boss Helmut Marko has dismissed dumping Gasly before the end of the season, but the Frenchman's seat still appears in jeopardy.
However, Villeneuve believes Red Bull would be wrong to elevate Kvyat once again to a race seat at its senior bull team.
"They have already had him, why would they do that? That's not the way to go," the Canadian told the French edition of Motorsport.com.
"It's very different to drive in a big or a small team. Some drivers are incredible in small teams, and not good in big teams.
"It happens even with 10 years of experience, we've seen it over the years. They won races in a small team, go to a big team, struggle to win, go back to a small team and start winning again. You can't predict it."
Assessing Gasly's season, Villeneuve believes the 23-year-old is lucky to still be in F1.
"He's really, really far off," said the 1997 world champion.
"He's not at the level he should be. It's tough. Max was leading the race and he was sixth or seventh, behind the two Toro Rossos. It's not good.
"Then he was unlucky because Albon crossed the line and should have been severely punished for his maneuver.
"Gasly's lucky to still be there. Red Bull and Helmut Marko were a lot more aggressive with their drivers in the past, it just shows that they don't see anyone coming up through their ranks, so they don't know who to replace him with."
Gallery: The beautiful wives and girlfriends of F1 drivers
Keep up to date with all the F1 news via Facebook and Twitter