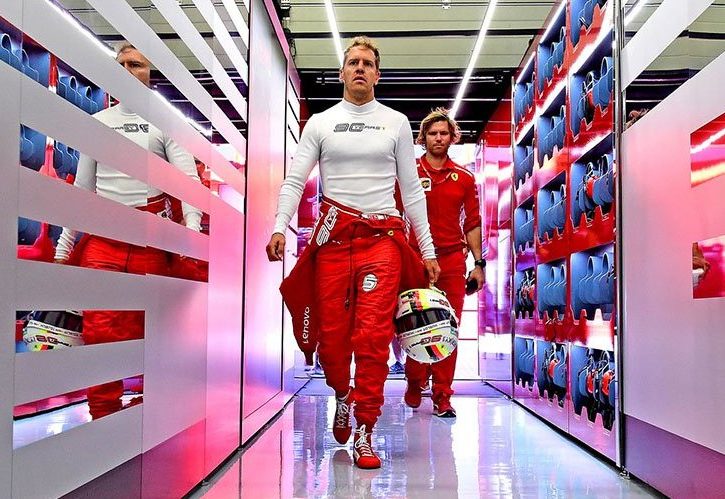 Ferrari team boss Mattia Binotto says Sebastian Vettel's ultimate ambition of winning the world title with the Scuderia remains intact despite the German driver's struggles this season.
After a productive preparation period last winter, Vettel and Ferrari expected to give Mercedes and Lewis Hamilton a run for their money this year and challenge for the world title.
Instead, the Scuderia's SF90 has been no match for the Silver Arrows' dominant contender, while Vettel has also been forced to compose with the burgeoning talent of teammate Charles Leclerc.
Even Red Bull's Max Verstappen entered the summer break with an upper hand over the four-time world champion in the drivers' standings.
Yet Binotto is adamant that Vettel's motivation to deliver to Maranello its first driver's title since Kimi Raikkonen in 2007 is as strong as ever.
"I think that his objective hasn't changed - to become world champion with Ferrari," Binotto told Motorsport.com.
"And he's got that objective very clear. Obviously, the start of the season in that respect was frustrating, because it means for his final goal he's not in the best position to achieve it in 2019.
"But because he's got such a strong objective, he knows exactly what he's looking for. I
"I think that is where he's finding his own boost, and that is not compromising anything, so he's clearly still pushing [very] much, because he knows where we need to go and he knows exactly what he's looking for."
Vettel's 2018 title bid against Hamilton crumbled over the summer following a string of personal errors.
A mistake in Bahrain earlier this season and a small but costly mishap in Canada pointed to another pattern of faults.
But Binotto argues that Vettel was forced to put his SF90 on the ragged edge to keep up with Mercedes' superior W10, insisting "it's always easier when you've got a faster car".
At the end of the day, the Scuderia boss feels his driver's rational approach is a major asset for the Italian squad and its quest to improve its performance.
"He's very analytical, in his way of looking at the problems and the lack of pace, and I think that's helping the team as well," Binotto added.
"Because at the end it's only a matter of looking at facts, understanding what is wrong, what needs to be improved. I think in that respect he's got the right approach."
Gallery: The beautiful wives and girlfriends of F1 drivers
Keep up to date with all the F1 news via Facebook and Twitter