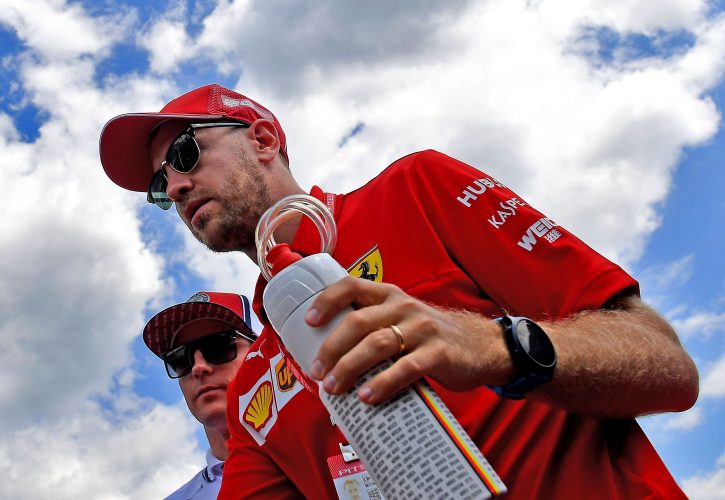 A candid Sebastian Vettel admits his overall performance hasn't been up to par on occasion, but the German says Ferrari and himself will do their homework over the summer break.
Ferrari's ambitions of finally bringing the title back to Maranello have been put on the back burner once again, squandered by the under-performance of its 2019 contender and its faulty aerodynamic concept.
But Vettel, who would have delivered to the Scuderia its first win of the season without a costly mistake and time penalty in Canada, admits his own execution has been inconsistent.
"Here and there, I didn't do the best job," said Vettel. "That's something I need to focus on and get better in the second half.
"The last couple of races were maybe a bit better for me, whereas some races, in the beginning, I struggled more with quite a lot of things.
"It's clear we're not where we want to be, you look at the points table, you look at a race like [Hungary], you look at the areas in tracks where we're lacking performance.
"We're addressing those things. We're working very hard, we're not short of commitment. The key is to remain calm, do our homework and try to catch up as much as we can."
Slow corners are the SF90's Achilles' heel, as Ferrari's disappointing performance relative to Mercedes and Red Bull painfully confirmed in Hungary.
Small updates have slightly mitigated the car's aerodynamic weakness, but more work needs to be done insists Vettel
"We got a confirmation, so I don't think it's a step back," he said.
"We had some bits [in Hungary], it was a small step forward, but what it shows is that it's not enough.
"It's important that the mood inside the team remains positive, which is the case."
Gallery: The beautiful wives and girlfriends of F1 drivers
Keep up to date with all the F1 news via Facebook and Twitter